No Land's Man (Hardcover)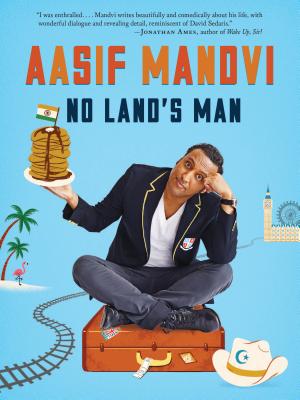 Description
---
"It always bothered me that Aasif was more than merely funny-he's also a great actor. Now I've learned he's an amazing storyteller as well, and I am furious . . . but also grateful. Aasif's movement between cultures and genres is what makes him and his story singularly funny, poignant, and essential."
- John Hodgman, author of The Areas of My Expertise and More Information Than You Require

"My father moved our family to the United States because of a word. It was a word whose meaning fascinated him. It was a singularly American word, a fat word, a word that could only be spoken with decadent pride. That word was . . . Brunch! 'The beauty of America,' he would say, 'is they have so much food, that between breakfast and lunch they have to stop and eat again.'" —from "International House of Patel"

If you're an Indo-Muslim-British-American actor who has spent more time in bars than mosques over the past few decades, turns out it's a little tough to explain who you are or where you are from. In No Land's Man Aasif Mandvi explores this and other conundrums through stories about his family, ambition, desire, and culture that range from dealing with his brunch-obsessed father, to being a high-school-age Michael Jackson impersonator, to joining a Bible study group in order to seduce a nice Christian girl, to improbably becoming America's favorite Muslim/Indian/Arab/Brown/Doctor correspondent on The Daily Show with Jon Stewart.

This is a book filled with passion, discovery, and humor. Mandvi hilariously and poignantly describes a journey that will resonate with anyone who has had to navigate his or her way in the murky space between lands. Or anyone who really loves brunch.
About the Author
---
Actor and writer Aasif Mandvi is a correspondent on Comedy Central's The Daily Show with Jon Stewart and one of the stars of HBO's upcoming series, The Brink for which he also serves as writer/producer. He won an OBIE award for his one-man play Sakina's Restaurant which he later adapted into the film Today's Special. He has appeared in numerous theater, film and television productions including The Pulitzer Prize winning play Disgraced at Lincoln Center, and the films Million Dollar Arm and The Internship. He lives in New York City. To learn more about the glamorous life and well informed opinions he pretends to have, follow him on twitter @aasif.
Praise For…
---
"9.3 out of 10. A fast and entertaining read that should take most people no more than a day or two to finish, this comes strongly recommended to both comedy fans and those interested in first-hand looks at the American immigration experience, as well as anyone else looking for a sweet, funny story about nerdom and outsider culture."
-Chicago Center for Literature and Photography

"highly entertaining and engaging"
-India West

"a warm and explosively funny book"
- The New York Times

"With a mixture of humor and heart, Mandvi's story is one that will resonate with anyone who has ever wanted to find their place in their world, to find where they fit in with the rest of the human race. It doesn't matter if you are part of the minority or majority, whether you're a native or foreign-born, wanting to belong is something most of us can relate to."
-Northwest Asian Weekly

"We need more books like this - or rather, we need to read more books like this - in order to understand the fundamental humanity that we all share, regardless of skin color."
-Daily Kos

"Mandvi's book 'No Land's Man' is a collection of humorous essays that explore his myriad identities: Indian, Muslim, British, and American...The book is a lighthearted but heartfelt portrait of Mandvi's childhood and his struggles to come to terms with his rather complicated life."
-The Boston Globe

"Best Comedy Books of 2014" selection by The Washington Post

"Aasif is my favorite Indo-Muslim-British- American Daily Show correspondent ever. I loved No Land's Man!"
-Jim Gaffigan, author of Dad Is Fat and Food: A Love Story

" It always bothered me that Aasif was more than merely funny-he's also a great actor. Now I've learned he's an amazing storyteller as well, and I am furious . . . but also grateful. Aasif's movement between cultures and genres is what makes him and his story singularly funny, poignant, and essential."
-John Hodgman, author of The Areas of My Expertise and More Information Than You Require
Coverage from NPR