Of Dice and Men: The Story of Dungeons & Dragons and The People Who Play It (Hardcover)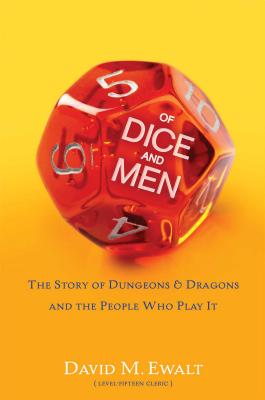 Description
---
The Hobbit meets Moneyball in this definitive book on Dungeons & Dragons—from its origins and rise to cultural prominence to the continued effects on popular culture today.

HERE, THERE BE DRAGONS.

Ancient red dragons with 527 hit points, +44 to attack, and a 20d10 breath weapon, to be specific. In the world of fantasy role-playing, those numbers describe a winged serpent with immense strength and the ability to spit fire. There are few beasts more powerful—just like there are few games more important than Dungeons & Dragons.

Even if you've never played Dungeons & Dragons, you probably know someone who has: the game has had a profound influence on our culture. Released in 1974—decades before the Internet and social media—Dungeons & Dragons inspired one of the original nerd subcultures, and is still revered by millions of fans around the world. Now the authoritative history and magic of the game are revealed by an award-winning journalist and lifelong D&D player.

In Of Dice and Men, David Ewalt recounts the development of Dungeons & Dragons from the game's roots on the battlefields of ancient Europe, through the hysteria that linked it to satanic rituals and teen suicides, to its apotheosis as father of the modern video-game industry. As he chronicles the surprising history of the game's origins (a history largely unknown even to hardcore players) and examines D&D's profound impact, Ewalt weaves laser-sharp subculture analysis with his own present-day gaming experiences. An enticing blend of history, journalism, narrative, and memoir, Of Dice and Men sheds light on America's most popular (and widely misunderstood) form of collaborative entertainment.
About the Author
---
David M. Ewalt began playing Dungeons & Dragons when he was ten years old. Now an award-winning journalist, he writes about games for outlets like Forbes and the Wall Street Journal, talks about games on television and radio, and plays games in and around his Brooklyn, New York, home. Join him or find out more at DavidMEwalt.com.
Praise For…
---
"Dungeons & Dragons has been a huge part of my life. The book sheds light on the world of [D&D co-creator] Gary Gygax, and it also lets the reader into the mind of somebody questioning how cool this game is."
— Vin Diesel

"An engaging book that fuses history and memoir. [Ewalt] tracks D&D's turbulent rise, fall and survival, from its heyday in the 1980s… to the 21st century."

"David Ewalt's wit, insight and infectious love of D&D make him the perfect guide to the most significant game of the twentieth century. The book is a joy to read."
— Tim Harford, author of The Undercover Economist

"It's almost impossible to explain how Dungeons & Dragons works, and harder still to explain how it feels. This book comes as close as any I've ever read."
— Chuck Klosterman, author of Sex, Drugs, and Cocoa Puffs and I Wear the Black Hat

"David Ewalt writes about the world of fantasy role-playing junkies with intelligence, dexterity, and even wisdom. (I am unable to speak to his strength, constitution, or charisma.)"
— Ken Jennings, author of Maphead and Because I Said So!

"Long before I made my mark in software, I was a pretty good Dungeon Master, and D&D has played a significant part in my life. In addition to covering much of the deep history of the game that I never knew, Of Dice and Men brought back tons of fond memories, and damned if it didn't make me pull some dusty old rulebooks off the shelf at home."
— John Carmack, co-founder of Id Software

"A fascinating history of D&D written by an author who authentically loves the game. Whether you know what d20 means or not you will love this book!"
— Felicia Day, actress, producer, creator of The Guild and Geek & Sundry

"The best book I've read since the Monster Manual."
— David X. Cohen, executive producer of Futurama

"A fascinating window into the storied history of fantasy pen and paper gaming. A must-read for anyone curious about the genre."
— Dr. Ray Muzyka, co-founder of BioWare

"David Ewalt offers a genial history of Dungeons and Dragons and its impact on his own geek life…. A highly readable account of a game that seized the imagination of a generation and maintains its grip three decades later."

"Even audiences normally indifferent to D&D's charms will find Ewalt's overview witty and absorbing, and the game's devotees will discover much here to revel in and quibble with."

"The author's devotion to the game does much to illuminate role-playing's enduring power on mortal men and women."

"The core of Ewalt's story is his experience of role-playing games. He explains it about as well as anyone could, short of experiencing it yourself."