I Hope My Voice Doesn't Skip (Paperback)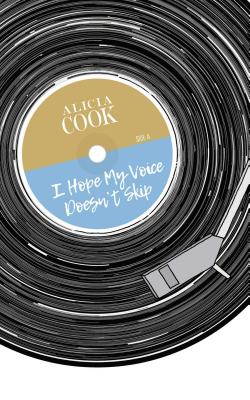 Description
---
Bestselling writer and activist Alicia Cook returns with I Hope My Voice Doesn't Skip, a collection of poetry, prose, and song. The follow-up to Stuff I've Been Feeling Lately contains anthem-like poems about relationships, mental health, current social issues, and learning from loss, with the promise that recovery is possible.

The reader's experience with this unique collection is lifted from the page as Cook has collaborated with a number of up and coming musicians to transform some of her poetry into song. Like her debut book, this one is divided into two parts. Modeled after a vinyl record this time, the collection is separated into the EP record, holding Cook's shorter poetry, and the LP record, holding Cook's longer poetry, prose, and songwriting. Together, they form an inspiring collection for all those recovering from something.
About the Author
---
Alicia Cook is a writer and creative living in Newark, New Jersey whose words have been highlighted in Teen Vogue, CNN, and USA Today. Her poetry is usually unfixed and covers various topics and emotions. Her poetry mixtape, "Stuff I've Been Feeling Lately" was a finalist in the 2016 Goodreads Choice Awards. When Cook is not creating poetry or drinking Rook coffee, she is writing about addiction and its direct effect on families.
 
Her series, "The Other Side of Addiction," written in honor of her cousin Jessica who lost her life to heroin, has developed a worldwide readership. These are very personal accounts, written to shed light on this deadly epidemic and prove that anyone can be affected. Her efforts were featured on the episode "A Family Disease" by the Emmy nominated documentary series, "Here's the Story".
 
Alicia Cook currently writes full-time as the Director of Institutional Communications at Bloomfield College. She loves the ocean, French fries, champagne, and spending time with her family.