Souris! Et Raconte Ton Histoire: Le Guide BD de Raina = Share Your Smile: Raina's Guide to Telling Your Own Story (Paperback)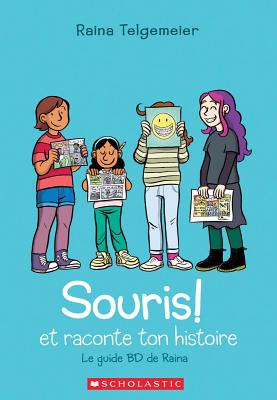 This item is currently unavailable and can not be ordered.
About the Author
---
Raina Telgemeier est une auteure-illustratrice ? succ's international. Elle a gagn? le prix Eisner et le prix B?d?lys, ? deux reprises. Apr's avoir obtenu son dipl?me ? la School of Visual Arts de New York, elle a publi? plusieurs bandes dessin?es qui ont figur? sur le palmar's du New York Times, dont Souris!, Drame, Sours et Fant?mes. Raina habite ? San Francisco. Raina Telgemeier's comics have been nominated for the Ignatz, Cybil, B?d?lys, and Eisner awards, and have appeared on the web, in magazines, and in various anthologies. She is the author-illustrator of the best-selling graphic novels Souris!, Drame, Sours, and Fant?mes. Raina lives in San Francisco.