Make Time for Creativity: Finding Space for Your Most Meaningful Work (A Self-Guide and Tool Kit) (Paperback)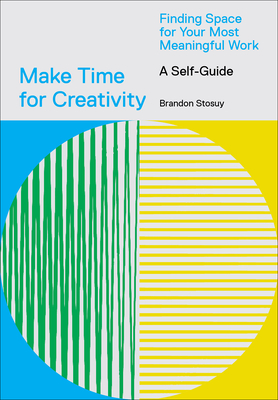 $16.99
Available from our distributor; usually Ships in 1-5 Days
About the Author
---
Brandon Stosuy is the editor in chief of The Creative Independent, an ad-free online community where practicing artists share insights on what it takes to be a creative, independent human. He is cofounder of the Basilica Soundscape festival in Hudson, New York, and is currently the music curator at The Broad Museum in Los Angeles.
Praise For…
---
"Brandon Stosuy has built so many platforms for others to explore their curiosities, and I would be beyond eager to see his own words and curiosities leaping off of the page."
— Hanif Abdurraqib
"The Creative Independent, co-founded and edited by Brandon, is what I actually read when I want to know how other artists really work, what they feel, how they live, in more specific and intimate language than I'd ever get from any other press outlet. This has been vital in my otherwise very isolated and unique life as a working artist. I'm certain Brandon's book will satisfy a similar need as TCI does for me, not just for artists, but for anyone who is trying to make something out of nothing, even when no one else around seems to need or want what you do."
— Mitski
"Nineteen years ago Brandon Stosuy was the first professional writer (and only for a while) to articulate what it was I was trying to do emotionally with my songwriting. He also turned me on to a bunch of ways to do it better. He's been a sort of beacon of encouragement and motivation for me every since. Brandon is really the only writer I still care about impressing. Everyone should be so lucky to have someone this wise and kind and honest around them. This book will give everyone the guidance and advice I've been getting for a long time."
— Matt Berninger
"Brandon Stosuy doesn't just know the culture inside out. He is the culture."
— Ed Park
"In the filtered, branded, faux-authenticized, click-bitten, hyper-performative hellscape we call modern life, Brandon Stosuy's DIY ethos, spirit of integrity and curatorial creativity are a beacon of uncancellable light. We need his voice everywhere."
— Melissa Broder
"Brandon Stosuy is a powerhouse of creativity. He has navigated a sometimes cruel world, where the spirit of the new is often maligned, and approached this negativity with both otherworldly grace and humor. Over his extensive career, he has made so many important spaces for writers, musicians, and artists, and his story is one of hope, freedom, and change. His book is sure to be worshipped for many years to come. May it nourish your own inner creative independence!"
— Dorothea Lasky