Coffin Hill Vol. 1: Forest of the Night (Paperback)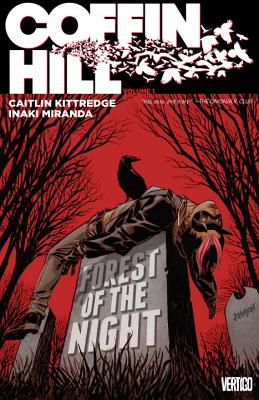 This item is currently unavailable and can not be ordered.
Description
---
Following a night of sex, drugs and witchcraft in the woods, Eve Coffin wakes up naked, covered in blood and unable to remember how she got there. One friend is missing, one is in a mental ward--and one knows that Eve is responsible.

Years later, Eve returns to Coffin Hill, only to discover the darkness that she unleashed ten years ago in the woods was never contained. It continues to seep through the town, cursing the soul of this sleepy Massachusetts hollow, spilling secrets and enacting its revenge.

Set against the haunted backdrop of New England, COFFIN HILL explores what people will do for power and retribution. Noted novelist Caitlin Kittredge, author of the Black London series, brings a smart, mesmerizing style to comics. Artist Inaki Miranda (FABLES) brings his dynamic storytelling to COFFIN HILL, following an acclaimed run on FAIREST.

Collects COFFIN HILL #1-7
About the Author
---
Caitlin started writing novels at age 13. Her first was a Star Wars tie-in. Fortunately, she branched out from there and after a few years trying to be a screenwriter, a comic book writer and the author of copious amounts of fanfiction, she tried to write a novel again. Her epic dark fantasy (thankfully) never saw the light of day but while she was struggling with elves and sorcerers she got the idea of writing a story about a werewolf who fought crime. Two years and many, many drafts later, she pitched Night Life to a bevy of agents and one of them, Rachel Vater, sold the series to St. Martin's. Caitlin collects comic books, print books, vintage clothes, and bad habits. She loves tea, loud music, the color black (especially mixed with the color pink) and ghost stories. She can drive a stick shift, play the violin and knows more English curses than American ones. Caitlin lives in Olympia, WA with two pushy cats.
Praise For…
---
"It's a lovingly rendered world, full of strange, creepy, and beautiful wonders and I desperately crave more of it."--IGN

"Kittredge and Miranda have something wonderful in "Coffin Hill"--COMIC BOOK RESOURCES