Deadenders (Paperback)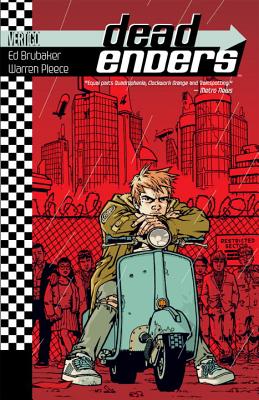 This item is currently unavailable and can not be ordered.
Description
---
In this stylized book of mystery and science fiction, a drug-dealing car thief must discover the secret behind his visions in order to save the world. Twenty years after the devastating Cataclysm, society has been separated into sectors in which the rich are able to enjoy machine-generated weather and sunlight while the poor are forced to live an eternally dank and dark existence. Banished to the dismal Sector 5, the angst-ridden Beezer discovers that the corrupt city police are hunting him because of his experiential visions of a pre-apocalyptic world. Now Earth's reluctant savior must learn his true origin and the meaning of his visions before he is captured and killed.
This trade reprints critically acclaimed writer Ed Brubaker's DEADENDERS issues 1-16 as well as Vertigo Winter's Edge #3!
About the Author
---
Ed Brubaker is one of the most acclaimed writers currently working in comics. After working at DC Comics for many years on titles such as GOTHAM CENTRAL, BATMAN, THE AUTHORITY, SLEEPER, and CATWOMAN, Brubaker moved to Marvel, where he took over Uncanny X-Men and Daredevil, and jump-started Captain America into its most exciting ongoing storyline in years. Brubaker has won the Eisner Award for Best Writer on two occasions.