The Yid: A Novel (Hardcover)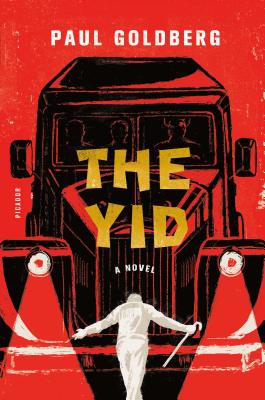 $36.00
Usually Ships in 1-5 Days
February 2016 Indie Next List
---
"When Solomon Levinson escapes arrest in the final days of Joseph Stalin's regime, he embarks on a quixotic attempt to kill the leader of the Soviet Union. Along with Friederich Lewis, an African American who has left Omaha for the Soviet Union, and a ragtag crew of Soviet dissenters, Levinson races to thwart a monstrous plan to unleash a second Holocaust against the Jews of Russia. The Yid is a very serious farce, a philosophical novel larded with pitch black comedy. Fans of City of Thieves and Absurdistan will love Goldberg's ambitious new novel."
— David Enyeart (E), Common Good Books, St. Paul, MN
Description
---
A DEBUT NOVEL OF DARING ORIGINALITY, THE YID GUARANTEES THAT YOU WILL NEVER THINK OF STALINIST RUSSIA, SHAKESPEARE, THEATER, YIDDISH, OR HISTORY THE SAME WAY AGAIN
Moscow, February 1953. A week before Stalin's death, his final pogrom, "one that would forever rid the Motherland of the vermin," is in full swing. Three government goons arrive in the middle of the night to arrest Solomon Shimonovich Levinson, an actor from the defunct State Jewish Theater. But Levinson, though an old man, is a veteran of past wars, and his shocking response to the intruders sets in motion a series of events both zany and deadly as he proceeds to assemble a ragtag group to help him enact a mad-brilliant plot: the assassination of a tyrant.
While the setting is Soviet Russia, the backdrop is Shakespeare: A mad king has a diabolical plan to exterminate and deport his country's remaining Jews. Levinson's cast of unlikely heroes includes Aleksandr Kogan, a machine-gunner in Levinson's Red Army band who has since become one of Moscow's premier surgeons; Friederich Lewis, an African American who came to the USSR to build smelters and stayed to work as an engineer, learning Russian, Esperanto, and Yiddish; and Kima Petrova, an enigmatic young woman with a score to settle. And wandering through the narrative, like a crazy Soviet Ragtime, are such historical figures as Paul Robeson, Solomon Mikhoels, and Marc Chagall.
As hilarious as it is moving, as intellectual as it is violent, Paul Goldberg's THE YID is a tragicomic masterpiece of historical fiction.
About the Author
---
Paul Goldberg's debut novel The Yid was published in 2016 to widespread acclaim and named a finalist for both the Sami Rohr Prize for Jewish Literature and the National Jewish Book Award's Goldberg Prize for Debut Fiction. As a reporter, Goldberg has written two books about the Soviet human rights movement, and has co-authored (with Otis Brawley) the book How We Do Harm, an expose of the U.S. healthcare system. He is the editor and publisher of The Cancer Letter, a publication focused on the business and politics of cancer. He lives in Washington, D.C.
Praise For…
---
"Audacious… [A] dazzling tragicomic debut."
—Jane Ciabattari, NPR.org
"[A] singular debut novel.... An ambitious historical fantasy.... Evoking the clash of tone and subject found in movies like The Producers and The Great Dictator, The Yid is a screwball farce about atrocity."
—Maureen Corrigan, NPR's Fresh Air
"Mr. Goldberg has written a book that revolves about Stalin's final blow against the country's remaining Jews…. Mr. Goldberg comes up with a team of Yiddish-speaking jokester-superheroes who are at the heart of his story, and who make it their mission to avenge countless acts of anti-Semitism, both real and anticipated…. The Yid is about Stalin's worst enemy as well as his favorite prey."
—Janet Maslin, The New York Times
"The Yid is darkly playful and generous with quick insights into the vast weirdness of its landscape."
—Glen David Gold, The Washington Post
"This novel's black humor is surpassed only by its historical audacity and literary fearlessness…. If you're looking for the next "Catch-22," it may be for you."
—Tony Norman, Pittsburgh Post-Gazette
"The Yid [is a] rollicking romp of a novel… In something like the mode of writer-director Quentin Tarantino in his films Inglourious Basterds and Django Unchained, Goldberg offers The Yid as a literary score-settling machine: a way for one of history's most brutal villains to receive a kind of cosmic comeuppance at the hands of those he victimized in real life. The difference is that unlike Tarantino, whose revenge fantasies undercut their higher purpose with an excess of sensational violence, Goldberg is less interested in the body than he is in the soul…. The Yid is as hilarious as it is appalling, and vice versa."
—Kevin Nance, Chicago Tribune
"Wily, rambunctiously entertaining [with] irresistible characters…. Goldberg's rapier-like, galvanizing novel unwinds in three acts punctuated by hilarious, flashing, and slashing dialogue as these rebels of temperaments deliberate and impulsive, skills invaluable and surprising, and memories painful and inspiriting, banter, lewdly insult each other, and argue over Shakespeare, Pushkin, Akhmatova, medical ethics, the broken promise of socialism, anti-Semitism, and racism…. Goldberg deftly presents plays within plays, in which his heroic, smart, acerbic, wildly improvising, cool-under-fire characters use stagecraft to attempt an impossible mission."
—Donna Seaman, Booklist (STARRED REVIEW)
"Breathtaking."
—Publishers Weekly
"[A] fantastical (and fantastic) debut novel… Highly recommended for readers with a grasp of history who enjoy imaginative deviations from what we think we know as historical truth."
—Edward B. Cone, Library Journal (STARRED REVIEW)
"The Yid is a quirky mixture of tones, blending the somber import of Bernard Malamud's The Fixer with the madcap humor of Gary Shteyngart."
—Mark Athitakis, Kirkus
"A brilliant novel that is at once surreally comic, suspenseful — if slightly cracked — and punctuated with eruptions of violence, but with a poignant ending…. An extraordinary, rich and surprising tale of intrigue… Paul Goldberg has been aptly compared to a whole constellation of Jewish literary geniuses — Sholem Aleichem, Philip Roth, Cynthia Ozick, E.L. Doctorow, Michael Chabon and even the Coen brothers. (I would hasten to add Mordecai Richler to the list.) And The Yid is proof that he surely belongs in their lofty ranks."
—Jonathan Kirsch, The Jewish Journal
"Blending historical figures and the scope of Shakespeare, this is a take on history unlike any other."
—Vol.1 Brooklyn
"A bizarre and wonderfully discursive novel… a tour de force of riotous humor set in the dark and blood-stained Soviet Union of the 1950s when Stalin's periodic paranoia and murderous anti-Semitism reemerge…. With Kafka, as with more contemporary Jewish writers like Joseph Heller, Michael Chabon and Nathan Englander, we have become familiar with literature that successfully blends murder with mirth, and the hilarious with the horrific."
—Gerald Sorin, Haaretz
"Goldberg packs layers of meaning and atmosphere into the story, deftly blending humor and horror…. Goldberg's achievement in The Yid transcends the misery and evil he portrays. Just as Shakespeare inserts jesters among the gore of his tragedies, Goldberg has constructed a tragedy instead of a travesty of the human spirit."
—Stephanie Shapiro, The Buffalo News
"Most fiction and nonfiction accounts of Stalin-era arrests go like this: The secret police come in the night and take the accused away in a Black Maria, to never be seen again. The neighbors sit by quietly, pretending not to have heard a thing. Mr. Goldberg amends this with a very American sensibility, replacing fear and submission with Tarantino-esque swagger."
—Anya Ulinich, The Wall Street Journal
"No act of violence, no sacred subject, no reference high or low escapes Goldberg's manic, discursive delight in this novel of an old Jewish stage actor and the unlikely troupe he assembles to assassinate Joseph Stalin."
—O, The Oprah Magazine
"[A] vivid and whip-smart look at the Cold War and its implications for our world today."
—Patrik Henry Bass, Essence
"Seriously funny, absurd and violent."
—Glenn C. Altschuler, Jerusalem Post
"An absorbing historical page-turner that somehow wrings delight from the terrible… Goldberg pushes and pulls history as needed to work his magic…. It's a good story, but what makes this such a terrific book is the author's confident mastery of the world he immerses us in, the fascinating and tragic back stories he weaves with little loss of narrative momentum, and his conspiratorial relationship to the reader…."
—Daniel Akst, Newsday
"One of the most distinctive and curious aspects of The Yid is its odd balance between seriousness and comedy. Have you had that experience of reading The New Yorker, where you're in the middle of a searing article about, say, Stalin's anti-Semitism, and you're struck by the incongruity of there being a silly little cartoon of a talking dog in the middle of the page? The evocation of that feeling seems to be not just a major characteristic of The Yid, but its animating impulse."
—Josh Lambert, Moment
"In The Yid, preparations for the pogrom are described with persuasive vividness…. Goldberg painfully evokes the anti-Semitic atmosphere in which Stalin's pogrom would have been conducted… The testimony of what observers saw and what they believed is a key tool in our understanding of the past. There is little in The Yid, at least in regard to the plans for the pogrom, that doesn't show up in the accounts of what Soviet Jews feared."
—Ken Kalfus, The New Yorker Page-Turner
"On one level, The Yid, Goldberg's first novel, is a tribute to the millions who were exiled and murdered during Stalin's ruthless three-decade reign... On another, it's a celebration of Jewish humor, theater and language—Yiddish is sprinkled throughout the book, and, in choosing the title, Goldberg reclaims the word "yid" from those who've used it as a slur. These are weighty themes, but The Yid wears them with style, because it also happens to be a satisfying thriller."
—Kevin Canfield, The Star Tribune
"Provocative… Imagine a Solzhenitsyn tale set in the lethal Soviet world, but restyled by Larry David…. Remarkable."
—Jim Higgins, Milwaukee Journal-Sentinel
"If a plot by two aging Bolshevik fighters to save Soviet Jews by killing Stalin sounds crazy, just wait until you read this book! The Yid is Paul Goldberg's sophisticated, multiform, madcap romp through the alternative Soviet universe of fantasy as reality set in February 1953… The Yid is a rollicking delight."
—Neal Gendler, The American Jewish World
"[THE YID is] as much history and philosophy as it is fiction. I've never read anything like it. Believe me, neither have you."
—Lily Meyer, Electric Literature
"With The Yid, Goldberg has found a graceful balance of gallows humor and film noir cloak-and-dagger suspense, blending hard-boiled action with Shakespearean allusions."
—Jeff Milo, Paste Magazine "10 of the Best New Books in February 2016"
"Paul Goldberg gives Soviet terror a wild spin in The Yid. When Stalin's henchmen come for an aging Jewish actor, all hell breaks hilariously loose."
—More
"Paul Goldberg's electric debut novel brings to mind, all at once: Isaac Babel, Malamud, Dostoyevsky's Demons, and Nathan Englander—but his voice is wholly his own. Goldberg turns Stalin's Russia into the stuff of myth, while making it somehow knowable. It is iconoclastic, gleefully profane, anachronistic and coolly modern, bawdy and bloody, antic and razor-smart. Which is to say: THE YID is a rollicking reading experience unlike any other."
—Daniel Torday, author of The Last Flight of Poxl West
"This is a sly, inventive novel that ripples with a kind of inventiveness in historical fiction that I've rarely seen. 'Historians trawl with broken nets,' says the author. But this is a densely woven net — a text that captures a dark phase of human history with bravura. Real and unreal figures gather as the plot unfolds against the backdrop of Soviet malevolence. Paul Goldberg takes us through a narrative hall of mirrors, makes us wince and laugh, and he never loses his momentum. A brilliant debut novel."
—Jay Parini, author of The Last Station
"Paul Goldberg's THE YID is an antic joyride through a grim period in Russian history. With glints of Kafka and The Big Lebowski, Goldberg's artful satire about antisemitism is wholly his own, and proves yet again why Jews own gallows humor."
—Lisa Zeidner, author of Layover and Love Bomb

"THE YID is one of the best debut novels in years. Pour yourself a vodka and settle in for a work of extravagant imagination, a tale of life and death and survival, written with brio. L'chaim! Na Zdorovie!"
—Keith Donohue, bestselling author of The Stolen Child and The Boy Who Drew Monsters
Coverage from NPR