Dead Red (Raymond Donne Mysteries #3) (Hardcover)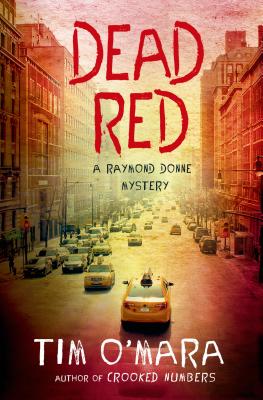 Description
---
New York City school teacher Raymond Donne has no idea how bad his night is going to get when he picks up the phone. Ricky Torres, his old friend from his days as a cop, needs Ray's help, and he needs it right now---in the middle of the night. Ricky picks Ray up in the taxi he's been driving since returning from serving as a marine in Iraq, but before Ricky can tell Ray what's going on, the windows of the taxi explode under a hail of bullets killing Ricky and knocking Ray unconscious as he dives to pull his friend out of harm's way.
Ray would've done anything to help Ricky out while he was alive. Now that he's dead, he'll go to the same lengths to find out who did it and why. All he has to go on is that Ricky was working with Jack Knight, Ray's old nemesis, another ex-cop turned PI. They were investigating the disappearance of a PR giant's daughter who had ties to the same Brooklyn streets that all three of them used to work. Is that what got Ricky killed or was he into something even more dangerous? Was there anything that Ray could've done for him while he was alive? Is there anything he can do for him now?
Filled with the kinds of unexpected twists that make for the best crime fiction, and with secrets that run far deeper than loyalties, Dead Red is the most thrilling mystery yet in Tim O'Mara's widely acclaimed series.
About the Author
---
TIM O'MARA, author of Crooked Numbers and the Barry Award nominated Sacrifice Fly, is a teacher in the New York City public school system. He lives in Manhattan's Hell's Kitchen with his wife and daughter. Dead Red is his third Raymond Donne mystery.
Praise For…
---
"Tim O'Mara's Dead Red is pitch perfect, and Raymond Donne is a beautifully flawed Brooklyn hero." —Reed Farrel Coleman, author of Robert B. Parker's Blind Spot
"Intriguing debut... Strong characters enhance the sturdy plot... O'Mara's Sacrifice Fly deserves an A-plus." —Oline H. Cogdill, Sun-Sentinel, on Sacrifice Fly
"Resounding debut." —Library Journal on Sacrifice Fly
"The well-drawn characters are what really bring this compelling debut to life... Donne is the type of character who keeps readers coming back for more, much in the manner of Michael Connelly's Harry Bosch or James Lee Burke's Dave Robicheaux. Here's hoping we see much more of him in the future." —Booklist on Sacrifice Fly
"Hopefully Mr. O'Mara has more adventures in mind for this character who quotes Whitman as readily as he does the penal code. And, he's a big-time baseball fan. What's not to like?" —Daily Herald on Sacrifice Fly