Dirty Wings: A Novel (The Metamorphoses Trilogy #2) (Hardcover)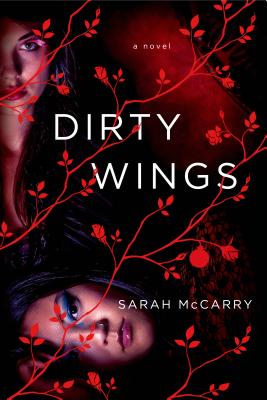 $24.99
Usually Ships in 1-5 Days
Staff Reviews
---
Maia and Cass are among the unlikeliest of friends: a dissatisfied, rule-following pianist and a clever and rebellious street kid. Something like fate brings them together, and the bond they form is as close -- maybe closer -- that that between Aurora and the unnamed narrator in McCarry's previous book, All Our Pretty Songs. Readers of that book will recognize Cass and Maia, but Dirty Wings stands alone just fine: it's a fierce, smart, and magical story about friendship and love and music and letting go and finding your place in the world. (Molly & Jenn)
— From
Molly
Maia and Cass are among the unlikeliest of friends: a dissatisfied, rule-following pianist and a clever and rebellious street kid. Something like fate brings them together, and the bond they form is as close -- maybe closer -- that that between Aurora and the unnamed narrator in McCarry's previous book, All Our Pretty Songs. Readers of that book will recognize Cass and Maia, but Dirty Wings stands alone just fine: it's a fierce, smart, and magical story about friendship and love and music and letting go and finding your place in the world. (Molly & Jenn)
— From
Molly
Description
---
A Kirkus Reviews Best Teen Book of 2014!
In Dirty Wings by Sarah McCarry, Maia is a teenage piano prodigy and dutiful daughter, imprisoned in the oppressive silence of her adoptive parents' house like a princess in an ivory tower. Cass is a street rat, witch, and runaway, scraping by with her wits and her knack for a five-fingered discount. When a chance encounter brings the two girls together, an unlikely friendship blossoms that will soon change the course of both their lives. Cass springs Maia from the jail of the only world she's ever known, and Maia's only too happy to make a break for it. But Cass didn't reckon on Jason, the hypnotic blue-eyed rocker who'd capture Maia's heart as soon as Cass set her free--and Cass isn't the only one who's noticed Maia's extraordinary gifts. Is Cass strong enough to battle the ancient evil she's unwittingly awakened--or has she walked into a trap that will destroy everything she cares about? In this time, like in any time, love is a dangerous game.
About the Author
---
Sarah McCarry was born in Seattle. She is the recipient of a MacDowell Colony fellowship and has written for Glamour, The Stranger newspaper, the Huffington Post Books Blog, and Tor.com. She has published essays in Listen Up: Voices from the Next Feminist Generation (Seal Press) and Voices of a New Generation: A Feminist Anthology (Prentice Hall). Since 1999, she's written and produced the zine Glossolalia; it's currently in the permanent collections of libraries across the country, including Columbia University, Barnard College, the Multnomah County Public Library, and the San Francisco Public Library. In August of 2009 she started the personal blog www.therejectionist.com. The blog currently has over a thousand followers and gets over 20,000 hits a month. She has bicycled alone across two continents and worked as a domestic violence advocate, a circus performer, a clearcut surveyor, an archivist, and a letterpress printer. She lives in Brooklyn, New York. She is the author of All Our Pretty Songs, Dirty Wings, and About a Girl.
Praise For…
---
"[A] lyrical stand-alone prequel…The prose is exquisitely crafted, moving effortlessly from dizzying to heartbreaking…A breathtaking companion volume, fully readable on its own and devastating in the context of its predecessor." —Kirkus (starred review)
"McCarry's hauntingly beautiful, darkly poetic language is her strength, and a sense of magical realism pervades the narrative throughout." —School Library Journal
"Exhilarating." —VOYA
"Sarah McCarry's strange and gorgeous punk fairytales make magic accessible and imbue the everyday with the weight of myth. A joyous and heartbreaking journey to the dangerous crossroads of friendship and love, Dirty Wings left me in awe." —Bennett Madison, author of September Girls
"We all talk about the next Francesca Lia Block, but Sarah McCarry is it. This is the kind of fevered and subversive story that teenage girls will pass around. Sarah McCarry is the patron saint of girls on the edge." —Erica Lorraine Scheidt, author of Uses for Boys
"McCarry's beautifully rich narrative is smooth and seductive...effortlessy dropping references to authors from Rousseau to Block...Goths and romantics both will eagerly await the second installment of this suspenseful planned trilogy." —Booklist (starred review) on All Our Pretty Songs
"Haunting, otherworldly and heartbreaking." —Kirkus (starred review) on All Our Pretty Songs
"All Our Pretty Songs is a gorgeous, haunting tale of love and loss that manages not only to be deeply passionate, but desperately tender. The prose melts in your mouth." —Tahereh Mafi, New York Times bestselling author of the Shatter Me series, on All Our Pretty Songs