The Lover's Dictionary: A Novel (Paperback)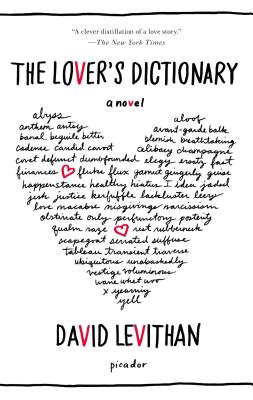 Description
---
How does one talk about love? Is it even possible to describe something at once utterly mundane and wholly transcendent, that has the power to consume our lives completely, while making us feel part of something infinitely larger than ourselves?
Taking a unique approach to this age-old problem, the nameless narrator of David Levithan's The Lover's Dictionary constructs the story of a relationship as a dictionary. Through these sharp entries, he provides an intimate window into the great events and quotidian trifles of coupledom, giving us an indelible and deeply moving portrait of love in our time.
About the Author
---
David Levithan is the author of The Lover's Dictionary and many acclaimed young-adult novels, including the New York Times bestselling Nick & Norah's Infinite Playlist (with Rachel Cohn), which was adapted into a popular movie. He is also an editorial director at Scholastic.
Praise For…
---
"Levithan brings ingenuity and a wry edge to his first adult novel. . . Among the novel's pleasures are micro-stories that speak volumes, reminiscent of Lydia Davis' work. . . There's plenty of reflection, not just on the relationship but on the attempt to distill and describe such complex feeling, including this: 'Trying to write about love is ultimately like trying to have a dictionary represent life. No matter how many words there are, there will never be enough.'" —Heller McAlpin, NPR.org
"'The Lover's Dictionary' is clever and poetic and, sigh, sad. . . The brief entries are like poetry; poetry with a gravitational pull back to the central narrative, which is two people falling in love. The fact that the pieces hold together so well is testament, not only to Levithan's light hand and gracious writing but also to the power of this universal story." —Susan Salter Reynolds, Newsday
"Young-adult novelist David Levithan doesn't list this entry under the V in the alphabetically headed (and arranged) chapters of 'The Lover's Dictionary,' his charming short novel about a love affair and its bittersweet evolution from first flirt to shaky domesticity, for lovers of all gender persuasions . . . Surrounded by large amounts of white space--which may be useful for readers as we walk through these dictionary-like entries for musing on our own loves and losses--the spare number of words in Levithan's novel may be just enough . . . But allow me to exclaim. Without ellipsis. (and some white space) Here is a lovely Valentine's Day gift for lovers!" —Alan Cheuse, San Francisco Chronicle
"Levithan crafts a love affair as sharp, funny, and sad as any you'd find in an epic novel. . . The Lover's Dictionary isn't about how lessons were learned, and in what order--it's a documentation of facts, memories, war wounds. And anyone who has been in a romantic relationship will recognize themselves in Levithan's lovers, from the tiniest details of merging bookshelves and quiet afternoons to the largest anxieties of sexual inadequacy and romantic reciprocity." —Jessica Freeman-Slade, TheRumpus.net
"David Levithan makes every word count . . . Levithan gives readers the kind of love story that Billy Pilgrim in 'Slaughterhouse-Five' would have appreciated: unstuck in time, reliving moments in unpredictable order and in varying emotional colors. . . an equal opportunity romance with wit and rue, kisses and tears, that anyone can enjoy." —Jim Higgins, Milwaukee Journal Sentinel
"From 'aberrant' to 'zenith,' David Levithan's latest creates a relationship in short scenes, packed with lyrical language. Entries slip back and forth in time as they unfold through an alphabet of romance, anger, forgiveness and tenderness to make up one particular relationship . . . The entries manage to be both intently focused and hinting at the larger picture." —Elizabeth Willse, Star-Ledger
"Interestingly, each definition is told from the point of view and in the first-person voice of only one of the partners. The other partner's voice remains silent throughout except as quoted by the narrator. Nevertheless, both come wonderfully alive, emerging as complex, multidimensional human beings, happy and unhappy, ebullient and angry, sweet and sour, and so--delightfully--forth." —Booklist (starred review)
"Levithan attains some heartbreaking moments as well as pitches of hilarity with his concise, polished writing. Inherent in such an endeavor is an adorableness thankfully grounded by Levithan's wit." —Publishers Weekly