Annihilation Songs: Three Shakespeare Reintegrations (Paperback)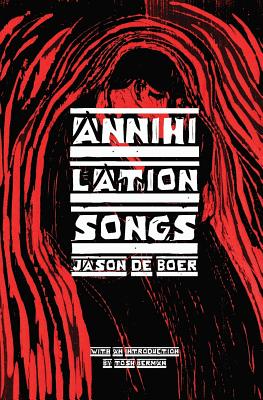 $12.95
Available from our distributor; usually Ships in 1-5 Days
Description
---
With Annihilation Songs: Three Shakespeare Reintegrations, writer and award-winning filmmaker Jason DeBoer presents radical anagrammatic takes on The Tempest, The Two Gentlemen of Verona, and Hamlet. Using only the words contained within each original drama, DeBoer's experimental fictions were created by disintegrating and then reintegrating Shakespeare's language into new narratives of warfare and desire. The result is an ultra-vivid hypertext, a warped yet faithful concordance of astounding poetic power, with theoretical roots in the earth of Bataille, Nietzsche, and Sade.
"An unprecedented supernova of narrative, DeBoer's work transforms Shakespeare's well-worn lexicon, taking it though a skillfully woven and compelling wormhole. Inverting a vocabulary deeply seared into the collective unconscious, DeBoer's innovative text transports the reader to a glistening event horizon of satisfying new puzzles, mysteries, and timeless preoccupations. A resounding triumph of structure and language, form, and voice." --Quintan Ana Wikswo, author of The Hope of Floating Has Carried Us This Far
These gripping tales are preceded by an introduction by Tosh Berman, and Killing the Dogs of Kathmandu, DeBoer's psychedelic account of the origin of his technique in Nepal, and the history of the reintegrations.
Jason DeBoer is the founder of Trembling Sun Films. His feature film Dead River has garnered critical acclaim and awards in Europe and the United States. His writing has been featured in The Iowa Review, Quarterly West, The Barcelona Review, Stand, Exquisite Corpse, The Absinthe Review, and other publications.