The Way of Florida: A Novel (Hardcover)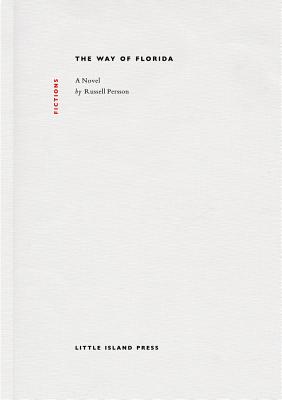 This item is currently unavailable and can not be ordered.
Description
---
Relentless, urgent and above all musical, this expertly crafted debut novel recasts the tragic story of the failed Narváez expedition—a calamitous attempt to establish Spanish colonies along the Gulf Coast—in bracing, beautiful language. A timely narrative of botched colonialism, The Way of Florida radically reimagines the parameters and responsibilities of the historical novel.

Of the 300 crew sent inland to explore, only four survived an eight-year ordeal. Their story comes down to us via La Relación, the official report published in 1542, as well as many other subsequent retellings. Persson's The Way of Florida is arguably the most linguistically rich, sinuous, and maybe even heroic.
About the Author
---
Russell Persson lives in Reno, Nevada. His work has appeared in The Quarterly, Unsaid Magazine and 3:AM Magazine. He is the 2014 recipient of Unsaid's Ivory-Billed Woodpecker Award for Fiction in the Face of Adversity.
Praise For…
---
"The Way of Florida is, for the figures in the narrative, a doomed and reckless course. But for Russell Persson it is the manner by which he achieves absolute triumph. Here is a strange, bracing, wholly original novel, just when we need it." —Sam Lipsyte (Home Land, Venus Drive, Hark)

"Russell Persson does with Cabeza de Vaca's narrative what Nick Cave did with traditional murder ballads: hones it, gives it a sharp edge, and makes it seem almost uncomfortably close. An incantatory and compelling read, one that will stick with you long after the book is closed." —Brian Evenson (Fugue State, Last Days)

"I am old, and am, therefore, in accordance with nature's regime, not the fertilest field for new fruit to find a furrow in and flourish therefrom skyward, spreading its yield over all below, capturing in shadow the occult origin it sprang from. Dark, dark, dark, this incessantly numinous account of the funding of the planetary genius which, at any cost, the terrible genies of appropriation disport themselves on native soil, makes for an unprecedented work of language gorgeously twisted by the torsions of narrative necessity. It also makes for a great book. Entrancing in its choral pursuit of the realities of man's irresistible consumption of man, The Way of Florida rushes Russell Persson to the fore of notable American novelists, men and women who refuse the conventions handed them and confound the vicious lures of the marketplace. Ah, good conscience tells me I might instead have simply—and thus more truly—said, 'I'm floored.'" —Gordon Lish

"Persson, God, where does one begin? There is a seriousness to the pages of Russell Persson that is rarely seen in this age of the instantaneous. Read Persson closely and you will see that he is extremely defiant. He is also extremely subtle in his defiance. Persson will further subvert a beautiful acoustical event if he sees that the event can be anticipated before its conclusion. The first pages I received from Persson I could not stop reading." —David McLendon, Unsaid
"This is English, but not as we know it. The novelist seems to have taken it back to the dawn of language, producing a newly-minted idiom that feels both antiquated and timeless." —Andrew Gallix, http://review31.co.uk/