Dismantle: An Anthology of Writing from the VONA/Voices Writing Workshop (Paperback)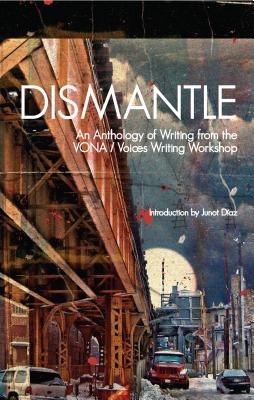 This item is currently unavailable and can not be ordered.
Description
---
Voices of Our Nation Arts Foundation (VONA) was founded by Elmaz Abinader, Junot Diaz, Victor Diaz and Diem Jones in 1999. Each envisioned an arts organization that could change the landscape for writers of color by supporting individual writer growth, creating a platform for community engagement and providing a workshop and mentor focus to expand writing opportunities. Over 2,000 writers from around the globe have participated in VONA. Dismantle is an anthology of creative work from VONA alum and its award-winning teachers.

Contributors include: Chris Abani, Elmaz Abinader, Faith Adiele, Kimberly Alidio, Hari Alluri, LiYun Alvarado, Anna Alves, Vibiana Aparicio-Chamberlin, Adam Balm, Oscar Bermeo, Tara Betts, Amalia B. Bueno, jewel bush, Ching-In Chen, Sharline Chiang, Monet Cooper, William Copeland, Jennifer De Leon, Junot Diaz, Gail M. Dottin, teri elam, M.J.Fievre, Nikky Finney, Cristina Garcia, Minal Hajratwala, Tatiana Richards Hanebutte, Scott Hernandez, Sasha Hom, Ashaki M. Jackson, Mitchell S. Jackson, Mat Johnson, Diem Jones, Jourdan Imani Keith, Mũthoni Kiarie, Alan King, Laila Lalami, Alberto Ledesma, Kenji C. Liu, David S. Maduli, Mia Ayumi Malhotra, Vanessa Martir, Maaza Mengiste, Rajiv Mohabir, Janine Mogannam, David Mura, Cynthia Dewi Oka, Rae Paris, Mai Perkins, Roopa Ramamoorthi, Jo Reyes-Boitel, Linda Maria Rodriguez Guglielmoni, Leah Silvieus, Anastacia Tolbert, Justin Torres, Seve Torres, Ky-Phong Tran, Torrie Valentine, Norma Liliana Valdez, and thandiwe Dee Watts-Jones. With an introduction by Junot Diaz.