League of Somebodies (Paperback)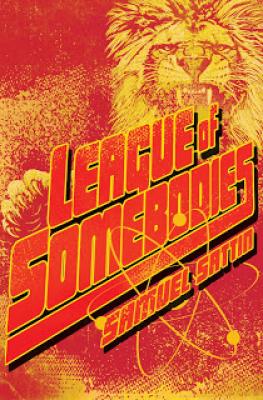 Description
---
Lenard Sikophsky's father has been feeding him plutonium since the age of six in the hopes of making him the world's first bona fide superhero. First, he must pass the unusual tests of manhood locked in the centuries old tomb, The Manaton, a secret relic passed down for generations. Falling in love with the beautiful, compulsively suicidal Laura Rabinowitz doesn't make his life any easier. But with the guidance of the Sikophsky men, the antiquated rulebook, and of course a healthy amount of plutonium, Lenard learns to accept his fate as an exactor of justice. . . .

Twenty years later, Lenard's son Nemo is introduced to the same destiny as his father, only this time the violent entity called THEY are in dangerous pursuit. Lenard's life and the legacy of his family are put to the test when he is forced to defend everything he loves.
About the Author
---
Samuel Sattin's work has appeared in "Salon, io9, Kotaku, The Good Men Project, The Cobalt Review, Cent Magazine, " and "Generations." He is Contributing Editor at "The Weeklings" and lives in Oakland, California with his wife and a beagle.

Original illustrations by Peter Reed.
Praise For…
---
League of Somebodies is a dazzling investigation into masculinity and hero-making. It's also a rollicking good time, and his characters—crazy, troubled, hilarious, endearing—are unforgettable. Sattin magnificently tackles many big themes of our age: inheritance, the burdens of manhood, creating our own identities, and last but not least, love.  In Sattin's fiction, there is no such thing as a marginal character, no matter the world's attempt at marginalization.– Cristina Garcia, author of Dreaming in Cuban and The Lady Matador's HotelHow to explain this mystic monster League of Somebodies? Part old-school epic, part coming-of-age tale, and part comedy in the spirit of Mel Brooks's Young Frankenstein . . . Samuel Sattin is a mad scientist. – Victor LaValle, author of Big Machine and The Devil in SilverLet me tell you what THEY don't want you to know: League of Somebodies is so rich with originality that it's actually radioactive. If you captured Owen Meany in a literary time machine and fed him a strict diet of comic books and plutonium, you would come up with a main character a hell of a lot more well-adjusted than Lenard Sikophsky. Read at your own risk and beware: laughter is the first sign of infection. – Mat Johnson, author of Pym, Incognegro, and Dark RainThose of you who are considering poisoning, terrorizing, and forcing their boys to read maniacal misogynistic rantings may want to read League of Somebodies as a cautionary tale. The rest of you, though, will have fun with this satiric American saga of squalid super-heroics. It's like the origin myth of a gladiator's sour, bedazzled breechclout.– Corwin Ericson, author of SWELLSattin's first novel is a whirling force that blends the family saga, superhero lore, and a coming of age story to a frothy cocktail. – Joshua Mohr, author of Damascus and Termite Parade