One Ring Circus: Dispatches from the World of Boxing (Paperback)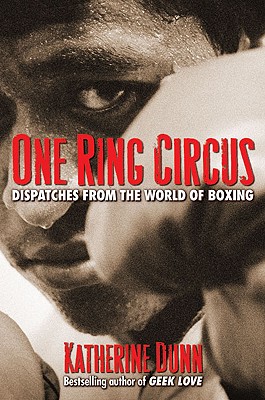 This item is currently unavailable and can not be ordered.
Description
---
Published together for the first time, this anthology of essays on boxing covers the sport in all its forms and at its many levels. Written in bestselling author Katherine Dunn's characteristic vernacular, these pieces range from portraits of legendary fighters such as Sugar Ray Leonard, Roberto Duran, Marvin Hagler, and Mike Tyson to the unsung stories of trainers, amateurs, promoters, cutmen, and a pair of pugilistic priests. Spanning 30 years and including all who make up the vibrant boxing world, this compilation—from one of the most original voices in American sports literature—finely elevates the sport and communicates its beauty, passion, and character.
About the Author
---
Katherine Dunn is an award-winning boxing journalist whose work has appeared in many publications, including Esquire, KO Magazine, The New York Times Sunday Magazine, Playboy, The Ring, Sports Illustrated, and Vogue. She is the author of three novels, including Geek Love, which was a finalist for the National Book Award. In 2004, Dunn and photographer Jim Lommasson won the Lange-Taylor Documentary Prize for their work on the book Shadow Boxers. She is currently associate editor of cyberboxingzone.com, an internet boxing encyclopedia and magazine. She lives in Portland, Oregon.
Praise For…
---
Featured in the Los Angeles Times Book Review's "Summer Books, Hot Type, 60 Picks for Best Reads of the Summer"
"Dunn unveils insight that exceeds the merely perfunctory." —Publishers Weekly
"An exciting new addition to boxing literature. [Dunn's] prose is brilliant, and in a game so fully immersed in danger and utmost peril, the most striking thing is . . . [her]humanity." —Thom Jones, National Book Award finalist, The Pugilist at Rest
"One of our finest novelists is also, hands-down, the best boxing journalist working today." —Lucius Shepard, Nebula and Hugo Award–winning science fiction writer and boxing journalist
"Ms. Dunn's collection is already my candidate for boxing book of the year. This one belongs on the top shelf alongside Heinz's Once They Heard the Cheers and McIlvanney's The Hardest Game." —Peter Ehrmann, CBZ Newswire, CyberBoxingZone
"Collects the best and most accessible of [Dunn's] published essays, which vibrantly capture the culture, characters, and atmosphere of the sport [of boxing]." —The Portland Mercury
"Katherine Dunn understands the sport instinctively and writes about it intuitively in this rich collection of her work. Not to coin a cliche, One Ring Circus is a 'Knockout'!" —Bert Randolph Sugar, writer and historian, Boxing Hall of Fame