Gateway to Paradise: Stories (Paperback)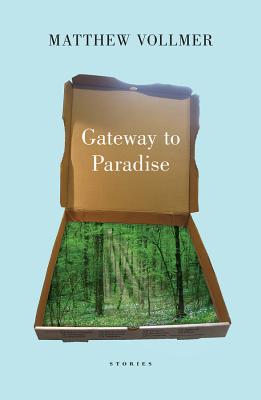 This item is currently unavailable and can not be ordered.
Description
---
A bold, vibrant, and surprising collection. Men and women looking for escape from the excess and sham culture in which they live—junk food, souvenirs, and hype (whether for religion or sex)—are led by the power of their own imaginations to places of danger and self-reckoning.  
In these gritty, imaginative stories set in the mountains and small towns of the South—often in motels, theme parks, or resorts—men and women find themselves at the mercy of an inspiration gone wrong: a man on a tryst is seduced by a ghost; a woman conducts a test to discover who is her true best friend—her husband or her dog; a beleaguered young writing professor goes one step too far while chaperoning the famous writer he finds darkly alluring.  In the title story, an ex-high-school basketball player living an uneventful life in her small hometown as a cashier helps her boyfriend rob a lottery winner, and finds herself on an epic journey of fear, deceit, and betrayal. 
About the Author
---
Matthew Vollmer is the author of Future Missionaries of America, a collection of stories, as well as Inscriptions for Headstones, a collection of essays. He is the editor of A Book of Uncommon Prayer, which collects invocations from over sixty acclaimed and emerging authors, and with David Shields is co-editor of Fakes; An Anthology of Pseudo-Interviews, Faux-Lectures, Quasi-Letters, "Found" Texts, and Other Fraudulent Artifacts. His work has appeared in a range of anthologies and magazines, including The Paris Review, Ploughshares, Glimmer Train, Tin House, Virginia Quarterly Review, Epoch, Best American Essays and The Pushcart Prize Anthology. He directs the undergraduate creative writing program at Virginia Tech.
Praise For…
---
A beautifully voiced, precise, hilarious, utterly serious, and extremely impressive book.
— David Shields

[The stories] have beginnings, middles, and ends. They are about love, family, and loss. They look like traditional stories, they sound like traditional stories, and if it quacks like a duck, I'm happy to report they are not, as [Vollmer] has now conjoined his two writing brain halves, his formal ease with tradition and an impulse to upset your applecart. There is little to nothing else like it. ...What works so well and uniquely in Gateway is the marriage of thought and behavior, thought and consequence. ... Prayer functions in the collection as a fantasy .... More interesting though, prayer is a place to go to, a safe (meta)physical space, and I've not previously come across the idea. ... More importantly, it's a place denied to the people of these stories. It's a place of religious disappointment ... Riley [in the title novella] is not denied access because she does not believe, but because she has something to hide, which might be another way of saying Riley is hiding from herself, running not just from the law, but from herself. ..."What choice did she have but to bury the secret deep, plant it like a bone in the dark?" Which, of course, makes for troubled lives?but compelling fiction.


Vollmer's collection is lyrical and honest…unique and character driven stories.

There's a certain wedge of the American
South where mountains give way to idyllic college towns and tall tales give way
to the ghosts that inspired them. It's the geographical confluence of truth and
fiction, history and folklore, and Matthew Vollmer mines that rich terrain in Gateway to Paradise, a collection of
short stories that follows disparate lives entangled in the Appalachians like
vines of kudzu, tethered by secrets and stories. . . . Vollmer's best stories
have a ring of truth . . . . [his characters are] as distinct and magnetic as
the region they inhabit.

Surreal, grittily realistic, comic, and tragic at times, but always entertaining. Matthew Vollmer is a very talented writer, and all of that talent is on display in this exceptional collection.
— Ron Rash

Matthew Vollmer's sophomore collection of stories is bright, sharp, au courant, and thoroughly enjoyable: six stories, all of them well made and a little edgy... these stories are hip. They are hip to slang, to youth, to the sadness of trying to find one's self and one's place in life. They are also hip to love and loss and the fear everyone has ... of being alone.... Gateway to Paradise is fun to read and even more fun to think about after you've read it.

— Kelly Cherry