Creeping Jenny: A Nyquist Mystery (Nyquist Mysteries #3) (Paperback)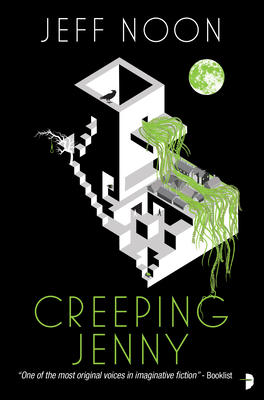 Other Books in Series
This is book number 3 in the Nyquist Mysteries series.
Description
---
The third book in Jeff Noon's widely acclaimed 'Nyquest Mysteries' find our protagonist caught up in a new mystery that delves into nightmares, Saints and the answer to his father's disappearance

In the winter of 1959, private eye John Nyquist arrives in the village of Hoxley-on-the-Hale with only a package of cryptic photographs, and the frail hope of finding an answer to a question he's been asking since his childhood.

But the villagers offer little help, as each day brings a twisted new rule in the name of a different Saint that they, and Nyquist, must follow. And there are whispers of the return of the Tolly Man, an avatar of chaos in a terrible mask...

As Nyquist struggles to distinguish friend from foe, and the Tolly Man draws nearer, he must race to finally settle the one mystery he has never been able to solve: the disappearance of his father.

From the singular imagination of Jeff Noon comes this dark tale of folk horror in the Philip K. Dick Award-nominated John Nyquist series.

File Under: Horror Fantasy [ Everyday Saints | Not the Ravens | Fatherland | Written in Blood ]
About the Author
---
JEFF NOON is an award-winning British cult novelist, short story writer and playwright. He won the Arthur C Clarke Award for Vurt, the John W Campbell award for Best New Writer, a Tinniswood Award for innovation in radio drama and the Mobil prize for playwriting.

He was trained in the visual arts, and was musically active on the punk scene before starting to write plays for the theatre. His work spans SF and fantasy genres, exploring the ever-changing borderzone between genre fiction and the avant-garde.
Praise For…
---
"outstanding paranormal mystery"
– Publishers Weekly, starred review

"Classic Jeff Noon weirdness with a beautifully crafted mystery at its heart."
– Starburst Magazine


PRAISE FOR JEFF NOON

"It's a heady psychedelic mix, packed with literary allusions, which brilliantly explores notions of self-identity, personal awareness and how we fit into our own stories."
– The Guardian on The Body Library

"Rich, inventive and recommended."
– Sci-Fi Now on The Body Library

"A moody, grimy, ruthlessly funny read… its sense of play and sly manipulation of reader expectations – about metafiction, weird fiction, and noir – is still quite the trip."
– Barnes & Noble Sci-Fi & Fantasy Blog on The Body Library

"By writing a novel set in literature itself the author has created a new psychedelic meta-genre as well as a fantastic story that sticks in the mind long after the novel itself is read."
– British Fantasy Society

"The Body Library is a brilliant piece of writing that does a satisfying job of merging noir, magical realism, and a love of all things literary."
– SF Revu

"A disturbing and bizarre journey by one of the great masters of weird fiction."
– Adrian Tchaikovsky, Arthur C Clarke Award-winning author of Children of Time on A Man of Shadows

"Noon has written a kaleidoscopic noir novel of dizzying dream logic."
– Publishers Weekly on A Man of Shadows

"Clocks and watches form a recurrent motif in this artful, eerie novel that infuses the mystery genre with symbolism and soul."
– Financial Times on A Man of Shadows

"Wonderful and uniquely absorbing."
– Starburst on A Man of Shadows

"Noon is the Lewis Carroll of Manchester's housing estates."
– The Times

"Noon is a fiercely urban writer. [He] reflects the energy of the rave generation: the hammer and  twist of the music, the language of the computer games addict and the buzz of technology."
– New Statesman

"Noon's blend of quirky ideas, striking prose and imaginative characterisations establishes him as one of the most original voices in imaginative fiction."
– Booklist

"Let's call him the first of the psychedelic fantasists."
– Time Out

"A virtual wonderland."
– Vanity Fair

"Humorous, horrific and wildly original… an imaginative masterpiece."
– Library Journal 

"Observes most of the conventions of cyberpunk fiction [yet] its imagery is insistently organic, and owes more to the underground pharmacology of the rave scene than to the world of hard wired chips and user interface."
– New Yorker 

"Intriguingly textured, reliably witty and inventive, Noon's whirling purposeful fantasy packs a full whallop." 
– Kirkus Reviews