Let's Scare Bear (Hardcover)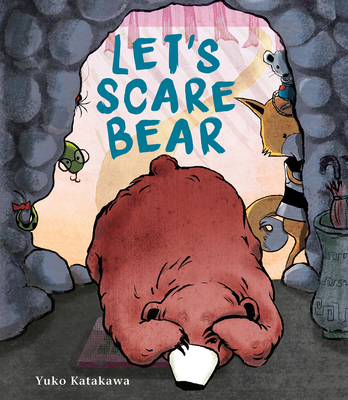 Description
---
"Let's scare bear!" says the tiny mouse. But the pint-size bully's plan backfires in this takeoff of a Japanese tale.

Mouse, Fox, Spider, and Snake all want to scare Bear. But Bear is the bravest animal in the forest--nothing scares Bear.

Except, maybe, one thing.

Bear says that he's scared of manju cakes. Armed with that knowledge, the other animals throw their manju cakes at him. . . . only to learn that the only scary thing is how much Bear loves to eat them!

Based on "Scary Manju," a tale in the Japanese oral tradition known as rakugo, Let's Scare Bear is a trickster tale that reminds us that bullies come in all shapes and sizes.
About the Author
---
Yuko Katakawa is a Japanese-born illustrator who studied art at an early age then later focused on Japanese Classic Literature in college. After she moved to the U.S., her love for art and words led her to picture book illustration. Yuko likes to create her artwork rapidly and instinctively using digital tools. Yuko lives in New York City. Let's Scare Bear is her debut picture book.
Praise For…
---
"A fun twist on a tale from Japanese oral storytelling tradition, great for reading aloud."—Kirkus Reviews

"Katakawa makes great use of perspective and movement, encouraging page turns and effectively drawing the eye. . . . the arresting visuals and nicely cadenced text make this an excellent candidate for storytimes." —School Library Journal


"This lighthearted tale is a twist on a classic story from the Japanese oral tradition of rakugo, making for a delightful read-aloud. Mixed-media illustrations add energy to the excitement, and the delectable subject may have children demanding a manju cake before the end."—Booklist

"readers should be tickled by Bear's willingness to play the fool for the sake of a yummy treat."—Publishers Weekly