Kindred (Paperback)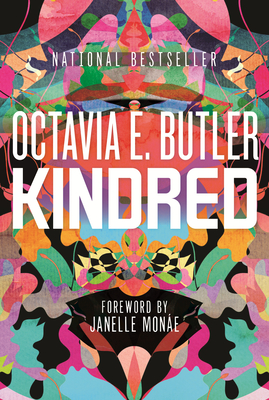 Staff Reviews
---
My goodness. Octavia's writing is far too realistic to be science fiction! Too many times I found myself having to close this book because the story became way too vivid for my heart to handle. Dana is a modern woman, who only has what she has learned of slavery to help her survive being transported back to the slave era! Octavia uses Dana's unique circumstances to explore interracial relationships, racism, the effects of slavery and the development of powerlessness for marginalized folks in both antebellum and modern America. YOU NEED TO READ THIS BOOK!
- From Deidre
Description
---
The visionary author's masterpiece pulls us—along with her Black female hero—through time to face the horrors of slavery and explore the impacts of racism, sexism, and white supremacy then and now.

Dana, a modern black woman, is celebrating her twenty-sixth birthday with her new husband when she is snatched abruptly from her home in California and transported to the antebellum South. Rufus, the white son of a plantation owner, is drowning, and Dana has been summoned to save him. Dana is drawn back repeatedly through time to the slave quarters, and each time the stay grows longer, more arduous, and more dangerous until it is uncertain whether or not Dana's life will end, long before it has a chance to begin.
About the Author
---
Octavia E. Butler (1947-2006) was the author of many novels, including Dawn, Wild Seed, andParable of the Sower. She was the recipient of a MacArthur Award and a Nebula Award, and she twice won the Hugo Award.
Praise For…
---
Octavia Butler is a writer who will be with us for a long, long time, and Kindred is that rare magical artifact . . . the novel one returns to, again and again.—Harlan Ellison

"One cannot finish Kindred without feeling changed. It is a shattering work of art with much to say about love, hate, slavery, and racial dilemmas, then and now." —Sam Frank, Los Angeles Herald-Examiner

"In Kindred, Octavia Butler creates a road for the impossible and a balm for the unbearable. It is everything the literature of science fiction can be." —Walter Mosley

"Truly terrifying . . . A book you'll find hard to put down."—Essence

"Butler's books are exceptional . . . She is a realist, writing the most detailed social criticism and creating some of the most fascinating female characters in the genre . . . real women caught in impossible situations."—Dorothy Allison, Village Voice

"Butler's literary craftsmanship is superb."—Washington Post Book World

"One of the most original, thought-provoking works examining race and identity."—Lynell George, Los Angeles Times

This powerful novel about a modern black woman transported back in time to a slave plantation in the antebellum South is the perfect introduction to Butler's work and perspectives for those not usually enamored of science fiction. . .A harrowing, haunting story." —John Marshall, Seattle Post-Intelligencer

"No other work of fantasy or science fiction writings brings the intimate environment of the antebellum South to life better than Octavia E. Butler's Kindred." —Kevin Weston, San Francisco Chronicle

"A celebrated mainstay of college courses in women's studies and black literature and culture; some colleges require it as mandatory freshman reading." —Linell Smith, The Baltimore Sun

"Kindred is as much a novel of psychological horror as it is a novel of science fiction. . .a work of art whose individual accomplishment defies categorization." —Barbara Strickland, The Austin Chronicle

"A startling and engrossing commentary on the complex actuality and continuing heritage of American slavery." —Sherley Anne Williams, Ms.

"Her books are disturbing, unsettling… In a field dominated by white male authors, Butler's African-American feminist perspective is unique, and uniquely suited to reshape the boundaries of the sci-fi genre." —Bill Glass, L. A. Style