High as the Horses' Bridles: A Novel (Hardcover)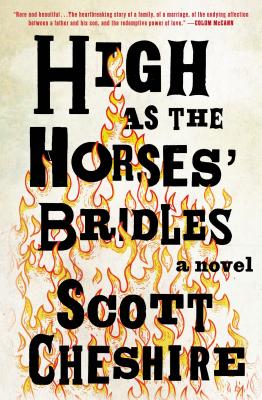 Description
---
A Washington Post Top 50 of 2014 Fiction pick
A Wall Street Journal Book of the Year, selected by Phil Klay
Electric Literature 2014: Year of the Debut
A Largehearted Boy Favorite Novel of 2014
Slaughterhouse 90210's Most Rapturous Book of 2014
Vol. 1 Brooklyn A Year of Favorites: Jason Diamond picks
Called "powerful and unflinching" by Column McCann in The New York Times Book Review, "something of a miracle" by Ron Charles in the Washington Post, and named a must read by The Millions, Time Out, New York Magazine, and Grantland; Scott Cheshire's debut is a "great new American epic" (Philipp Meyer) about a father and son finding their way back to each other.
"Deeply Imagined"—The New York Times / "Daring and Brilliant"—Ron Charles, Washington Post / "Vivid"—Elle / "One of the finest novels you will read this year."—Flavorwire
It's 1980 at a crowded amphitheater in Queens, New York and a nervous Josiah Laudermilk, age 12, is about to step to the stage while thousands of believers wait to hear him, the boy preaching prodigy, pour forth. Suddenly, as if a switch had been flipped, Josiah's nerves shake away and his words come rushing out, his whole body fills to the brim with the certainty of a strange apocalyptic vision. But is it true prophecy or just a young believer's imagination running wild? Decades later when Josiah (now Josie) is grown and has long since left the church, he returns to Queens to care for his father who, day by day, is losing his grip on reality. Barreling through the old neighborhood, memories of the past--of his childhood friend Issy, of his first love, of the mother he has yet to properly mourn--overwhelm him at every turn. When he arrives at his family's old house, he's completely unprepared for what he finds. How far back must one man journey to heal a broken bond between father and son?
In rhapsodic language steeped in the oral tradition of American evangelism, Scott Cheshire brings us under his spell. Remarkable in scale--moving from 1980 Queens, to sunny present-day California, to a tent revival in nineteenth century rural Kentucky--and shot-through with the power and danger of belief and the love that binds generations, High as the Horses' Bridles is a bold, heartbreaking debut from a big new American voice.
About the Author
---
Scott Cheshire earned his MFA from Hunter College. He is the interview editor at the Tottenville Review and teaches writing at the Sackett Street Writers' Workshop. His work has been published in Slice, AGNI, Guernica and the Picador anthology The Book of Men. He lives in New York City.
Praise For…
---
"Deeply imagined…Mr. Cheshire skillfully writes about the burdens and silver linings offered by faith and other inheritances." —The New York Times
"A convincing ventriloquist with an ear for all variety of language, from biblical cadence to ethnic dialect and slang, Cheshire - himself a former child preacher - transports the reader from east to west, and in the final section, deep into the past, to the crazed tent revivals of 19th century Kentucky that form the basis for the world that Josie has fled. The writing is fresh and propulsive throughout." —San Francisco Chronicle
"Daring and brilliant…Cheshire captures the anguish that has always driven people of faith -- or no faith -- toward the unbridled promise of a time when 'there shall be no more death, neither sorrow, nor crying, neither shall there be any more pain, for the former things are passed away.' No matter what you believe, fiction writing that delivers us to a moment like that is something of a miracle." —Ron Charles, Washington Post
"It is a testament to the author's storytelling gift that the novel never sags under the weight of its serious subject…. The final section reads with a special elegance, and the light from the far past shines even brighter on this fine novel." —Star Tribune (Minneapolis)
"Cheshire's debut novel triangulates between contemporary New York City and Southern California and nineteenth-century Kentucky in this vivid, visceral tale about a son schooled in the holy fire of old-time religion who must seek bold new bonds with his evangelical father, his departed mother, his ex-wife, and his own richly transformed inner life." —Elle
"The heart of this novel is the story of this man and his father...A beautiful novel about their relationship, the pull of religion and the things that pull a family apart." —Bill Goldstein, NBC New York
"It's a powerful book, an unflinching examination of two centuries of American yearning and desire." —As recommended by Colum McCann in The New York Times Book Review
"Cheshire is a writer of undeniable talent and power. The images in his first novel, High as the Horses' Bridles, are vivid, his language vigorous and bright, and his storytelling passionate…a fine debut novel." —Seattle Times
"Highbrow…Brilliant…A time-traveling, DeLillo-esque debut." —New York Magazine
"Scott's strengths as writer, and as a person: the balancing act between the light and the dark…there is an honest attempt to capture the human condition using language that is both assured and original, in a way I had not seen done in quite so vulnerable a way. This vulnerability shines through on almost every page…This is a funny book, though it's not necessarily always fun. It's sad and mournful, incredibly tender, particularly in the interactions between a father and son. This is a story about love, first and foremost." —Tin House
"The truly great American Epic is possible, but rare and profoundly special. Scott Cheshire, with his astounding debut High as the Horses' Bridles, joins that company, effortlessly delivering a beautiful and mysterious story that takes us from the stuffy churches of New York's outer boroughs to California, and then — almost inexplicably, yet in a way that's totally right — to Kentucky in the first years of the 19th century…[I]t is one of the finest novels you will read this year." —Flavorwire
"Impressive…human and honest, asking lofty questions while staying down on Earth" —The Brooklyn Rail
"Stick with this one -- the book and, more important, the first-time novelist…He's a more earthbound (if less assured) DeLillo, painting familiar subjects -- a scrappy outer borough and a fraught father-son dynamic -- in bold new colors." —Vulture
"Electric, rapturous… it's with High as the Horses' Bridles that Cheshire has managed to pack an American epic's worth of Americana in just a few hundred pages…Bridles is a striking debut novel that signals a bright future for Cheshire." —Omnivoracious
"It's a bold novel, abounding with contrasts: Cheshire is equally at home writing scenes of domestic conflict and theological debate; Queens and southern California are evoked in equal measures. There's plenty to ponder here: long discussions of family, of friendship, of religious traditions and the rejection of them." —Vol. 1 Brooklyn
"Scott Cheshire's High as the Horses' Bridles is one of the year's strongest debuts. This epic novel brilliantly explores themes of family, faith, and desire." —Largehearted Boy
"Cheshire tackles life's biggest issues through the person of Josiah, whose evangelistic heritage is finally revealed, in a narrative studded with gems of insight about the human condition. An impressively crafted literary first novel." —Booklist
"High as the Horses' Bridles] might just be one of the more powerfully-written debut novels published this year." —Of Blog Spot
"For those interested in exploring the risks of faith through story, High as the Horses' Bridles is a book that readers will want to dig into, turn over, and discuss at length" —River City Read
"High As the Horses' Bridles is a great new American epic, one that spans two hundred years, and takes us cross-country from the streets of New York City, to the beaches of Southern California, to the bluegrass hills of Old Kentucky. Cheshire tackles the biggest questions of all, God, love, and death, and he does it with such style and raw psychological insight. Nothing less than Dostoyevskian." —Philipp Meyer
"From its opening tour de force to its equally extraordinary conclusion, Scott Cheshire's debut is searing and fierce. His protagonist, Josiah Laudermilk, provides a rare bridge from our familiar everyday to the strange, rich territory of Evangelical Christianity -- and back again. Josiah's – and Cheshire's – brilliant evocations make the whole world new. This novel is truly memorable." —Claire Messud
"So many things at once, High as the Horses' Bridles is the heartbreaking story of a family, of a marriage, of the undying affection between a father and his son, and the redemptive power of love. It also happens to be a deep look at one of the more unsettling aspects of our national character--religion as desire. This is a rare and beautiful debut that will have readers thinking of Aleksandar Hemon, of E.L Doctorow, of Don DeLillo." —Colum McCann
"Scott Cheshire has made the insane choice to write with nuance and intelligence about religion. High As The Horses' Bridles refuses to dismiss or lampoon the kind of people who are usually just fodder for comedy. Because of this, his debut novel is tender and enlightening, riveting and raw. The man can write but, just as importantly, he keeps his eye on the humane just as surely as the divine." —Victor LaValle
"The prophets of High as the Horses' Bridles live struggling in anticipation of the Apocalypse they think they want and struggling in denial of the one they already have. In a three-book bible, written to profound and devastating purpose, Scott Cheshire counts the cost in love of inviting the end of the world." —Chris Adrian