There Was and There Was Not: A Journey Through Hate and Possibility in Turkey, Armenia, and Beyond (Hardcover)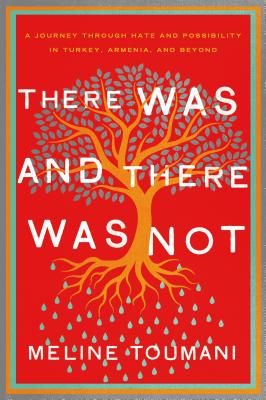 Description
---
A young Armenian-American goes to Turkey in a "love thine enemy" experiment that becomes a transformative reflection on how we use-and abuse-our personal histories

Meline Toumani grew up in a close-knit Armenian community in New Jersey where Turkish restaurants were shunned and products made in Turkey were boycotted. The source of this enmity was the Armenian genocide of 1915 at the hands of the Ottoman Turkish government, and Turkey's refusal to acknowledge it. A century onward, Armenian and Turkish lobbies spend hundreds of millions of dollars to convince governments, courts and scholars of their clashing versions of history.
Frustrated by her community's all-consuming campaigns for genocide recognition, Toumani leaves a promising job at The New York Times and moves to Istanbul. Instead of demonizing Turks, she sets out to understand them, and in a series of extraordinary encounters over the course of four years, she tries to talk about the Armenian issue, finding her way into conversations that are taboo and sometimes illegal. Along the way, we get a snapshot of Turkish society in the throes of change, and an intimate portrait of a writer coming to terms with the issues that drove her halfway across the world.
In this far-reaching quest, told with eloquence and power, Toumani probes universal questions: how to belong to a community without conforming to it, how to acknowledge a tragedy without exploiting it, and most importantly how to remember a genocide without perpetuating the kind of hatred that gave rise to it in the first place.
About the Author
---
Meline Toumani has written extensively for The New York Times on Turkey and Armenia as well as on music, dance, and film. Her work has also appeared in n+1, The Nation, Salon, and The Boston Globe. A journalism fellow at the Institute for Human Sciences in Vienna, Austria, she was also the coordinator of the Russian-American Journalism Institute in Rostov-on-Don, Russia. Born in Iran and ethnically Armenian, she grew up in New Jersey and California and now lives in Brooklyn, New York.
Praise For…
---
"A sensitive, inquiring account ... Toumani casts an unsparingly honest gaze on her own motivations, endlessly trying to find the merit in the other person's point of view (even, as she discovers to her horror, that of the top Turkish genocide-denier), though she can also be very funny. ... Toumani risks the ire of both sides by 'tampering,' as she puts it, 'with the story we had all agreed to tell.' Although it cost her some peace of mind, she has shown considerable courage in doing so." —The New York Times Book Review
"Toumani's emotional responses to her experience in Turkey, and her honesty in navigating and describing them, lend her story the authority that can come only from a storyteller who recognizes that history is a matter of both fact and feeling. Although this book offers plenty of insight-funny, affectionate, often frustrated-into a unique diasporic culture, Toumani is ultimately less interested in what makes a person Armenian, Turkish or anything else than in what can happen when we start to think beyond those national identities." —The Washington Post
"Audacious ... Compelling ... Toumani's stirring memoir lends hope that reconciliation, imperfect though it may be, can at last be achieved." —The Economist
"A superb narrative ... Toumani, with admirable courage and the enviable skills of a more experienced historian, has written a memoir that delicately walks the line between the subjective nature of memoir and the objective details of the past." —Star Tribune
"A clear-eyed, nuanced memoir ... As Toumani bravely exposes the fissures in her thinking about identity, she is also cautiously optimistic that Turks are moving toward recognizing what happened in 1915." —The Boston Globe
"Impressively researched, passionately pursued, and elegantly written, There Was and There Was Not is a beautiful and important read not just for Armenians and Turks on the 100th anniversary of the tragic genocide; but for all of humanity in an era where we face difficult decisions on how-and on whose terms, and with what ends in mind-to move forward toward a collective future." —Popmatters
"Sometimes personal histories retain a potent electromagnetic force ... Toumani's extraordinary There Was and There Was Not tackles the legacy of the 1915 Armenian genocide, opening provocative lines of inquiry into the identities we inherit, and transform." —Vogue
"A deep dive into a vexed history... A profound meditation on tribalism and truth." —Elle
"An engaging and deeply personal exploration of ethnicity, nationalism, history and identity…. There Was and There Was Not is neither a history of the genocide nor an examination of its political ramifications for the modern world. It is the story of one woman's attempt to understand her community, its fundamental assumptions, and herself. Written in a conversational style that is by turns heart-wrenching and unexpectedly funny, There Was and There Was Not will appeal not only to those interested in questions of the Armenian genocide but to readers interested in the larger questions of how individuals define themselves within communities and how communities define themselves." —Shelf Awareness
"A remarkable memoir... A moving examination of the complex forces of ethnicity, nationality and history that shape one's sense of self and foster, threaten or fray the fragile tapestry of community." —Kirkus Reviews (starred review)
"A profound and nuanced work about what it costs to remember the past and what it costs trying to forget it." —Biographile
"In this courageous and candid memoir, Meline Toumani reflects on what it really means--and does not mean--to come into the inheritance of a tragic past; on the complex feelings involved in confronting a historical enemy and Other; and on what we owe--and do not owe--to our collective identities, and what to ourselves. Writing with precise insight and wit, Toumani addresses issues that weave through traumatic histories everywhere, and that continue to concern us all." —Eva Hoffman, author of After Such Knowledge: Memory, History and the Legacy of the Holocaust
"Meline Toumani has written an unusual book: courageous, intriguing, and at moments, despite its subject, unexpectedly funny. And her determination to understand and put behind her a century of hatred has echoes for more peoples than just Turks and Armenians." —Adam Hochschild, author of To End All Wars: A Story of Loyalty and Rebellion, 1914–1918
"I read Meline Toumani's original and audacious book with admiration, first for the grainy pleasures of her narrative--the raw energy of true encounters--and perhaps even more for her nerve and seriousness in trying, as an Armenian-American woman, to find a path between the often-self-defeating absolutism of her own Armenian community and the Orwellian evasions of most contemporary Turks when asked to acknowledge the plain act of long-ago genocide in plain language." —Michael J. Arlen, author of Passage to Ararat
"Meline Toumani's beautifully rendered memoir is a powerful reminder of how family histories can constrain as much as they enhance our understanding of the world. This is a remarkable, vital, and perhaps above all courageous investigation into history, culture, and the human heart." —Dinaw Mengestu, author of All Our Names
"Meline Toumani's inspiring book cuts through the fog of politics surrounding the Armenian genocide with honesty, intelligence, and humanity. I was very impressed by the charm, humor, and bravery she displays in her relationships with Turks from all sides of the political spectrum, as well as her willingness to examine the assumptions of her fellow diaspora Armenians." —Ruth Franklin, author of A Thousand Darknesses: Lies and Truth in Holocaust Fiction
"This is a brave book, deeply intelligent and elegantly readable, providing a much needed fresh point of view. Anyone genuinely interested in the relations between Armenians and Turks, a subject that continues to be clouded by politics, must read it. In a meticulous, clarifying, and highly informed accounting, Toumani gives a personal perspective on the hate-filled relationship that persists between those Armenians who insist that the genocide be recognized and those Turks who adamantly deny the historical truth of the genocide. I could not put it down." —Eric Bogosian, author of Operation Nemesis
"This deft combination of political and personal narrative is an attempt to cross one of the modern world's most sensitive divides. With warmth and feeling, it shows why so many people and nations are imprisoned by the past, and what can happen when they set themselves free." —Stephen Kinzer, author of Crescent and Star: Turkey Between Two Worlds