My Ántonia (Paperback)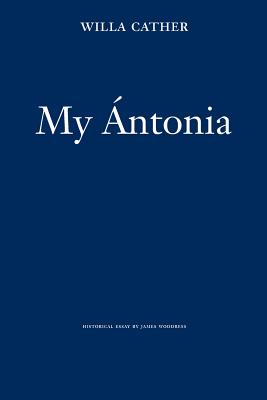 Email or call for price and availability
Description
---
"Willa Cather called My Ántonia "the best thing I've done." For Oliver Wendell Holmes, My Ántonia had "unfailing charm, perhaps not to be defined; a beautiful tenderness, a vivifying imagination that transforms but does not distort or exaggerate." This novel secured her a place in the first rank of American writers. H. L. Mencken declared it "one of the best [novels] any American has ever done."
Cather drew deeply on her childhood days in frontier Nebraska for her fourth novel, published in 1918. Old immigrant neighbors inspired many of the characters, particularly the heroine. Ántonia Shimerda is memorable as the warm-hearted daughter of Bohemians who must adapt to a hard life on the desolate prairie. She survives and matures, a pioneer woman made radiant by spirit.
The Willa Cather Scholarly Edition is faithful to Cather's intentions for the novel as she prepared it for publication in 1918. W. T. Benda's illustrations, omitted in many later reprintings, are included; Cather felt they were an integral part of the novel. The historical essay by James Woodress describes the origin, writing, and reception of the novel. The photographs help illuminate the fiction of a writer who drew extensively on actual experience.
About the Author
---
Charles Mignon is a professor of English at the University of Nebraska. Kari Ronning is assistant editor of the Cather Scholarly Edition. James Woodress is the author of Willa Cather: A Literary Life (Nebraska 1987) and editor of Cather's The Troll Garden (Nebraska 1983).