All-New X-Factor Volume 1: Not Brand X (Paperback)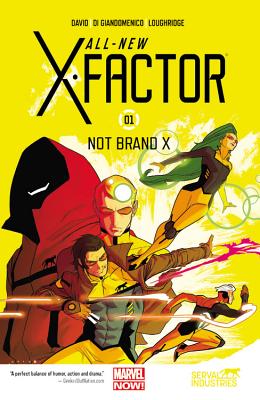 This item is currently unavailable and can not be ordered.
Description
---
X-Factor is back...like never before! Serval Industries, one of the world's most trusted names in electronics and a leader in cutting-edge internet and weapons technology, has just unveiled their newest contribution to society...the All-New XFactor! Led by mutant mistress of magnetism, Polaris, the team uses its corporate backing for the betterment of society. But with her half-brother Quicksilver, notorious thief Gambit and more by her side, can Polaris trust that her corporate masters really have good intentions? Especially when X-Factor is meant to help people, but one of their own has a dark secret?! (Hint: it's Gambit.) Be here as the team takes on their former frenemy, Danger, learns the sinister secret of Techno, Inc., and more! Experience the All-New X-Factor...brought to you by Serval Industries! COLLECTING: All-New X-Factor 1-6
About the Author
---
Peter Allen David, often abbreviated PAD, is an American writer of comic books, novels, television, movies and video games. His notable comic book work includes an award-winning, 12-year run on The Incredible Hulk, as well as runs on Aquaman, Young Justice, Supergirl, and Fallen Angel. His Star Trek work includes both comic books and novels such as Imzadi, and co-creating the New Frontier series. His other novels include film adaptations, media tie-ins, and original works, such as the Apropos of Nothing and Knight Life series. His television work includes series such as Babylon 5, Young Justice, Ben 10: Alien Force and Nickelodeon's Space Cases, the last of which David co-created.

David has earned multiple awards for his work, including a 1992 Eisner Award, a 1993 Wizard Fan Award, a 1996 Haxtur Award, a 2007 Julie Award and 2011 GLAAD Media Award.