My Antonia (Everyman's Library Contemporary Classics Series) (Hardcover)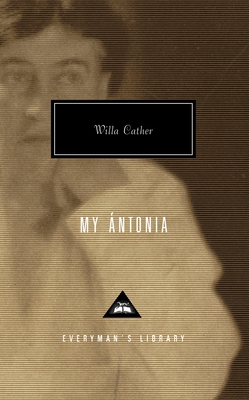 $22.00
Usually Ships in 1-5 Days
Description
---
(Book Jacket Status: Jacketed)Of Ántonia, the passionate and majestic central character in Willa Cather's greatest novel, the narrator, Jim Burden, says that she left "images in the mind that did not fade–that grew stronger with time." The same is true of the book in which Cather enshrines her heroine. On one level, My Ántonia is a straight?forward narrative, written in limpid prose of uncanny descriptive accuracy, about the struggles endured by a family of immigrant pioneers and the small community that surrounds them on the unsettled Nebraska plains. On another, it is a novel that represents a perfect marriage of form and feeling. In its magnificent tableaux of human beings caught in the toils of an abundant and overpowering natural world, and in the quiet, understated sympathy it displays for life of every sort, My Ántonia is a novel that effortlessly encompasses history and wilderness and the destiny of the individual–even as it lovingly and unsentimentally portrays a woman whose robust spirit and enduring warmth make her emblematic of what Cather most admired in the American people.
About the Author
---
Wila Cather was probably born in Virginia in 1873, although her parents did not register the date, and it is probably incorrectly given on her tombstone. Because she is so famous for her Nebraska novels, many people assume she was born there, but Wila Cather was about nine years old when her family moved to a small Nebraska frontier town called Red Cloud that was populated by immigrant Swedes, Bohemians, Germans, Poles, Czechs, and Russians. The oldest of seven children, she was educated at home, studied with a Latin neighbor, and read the English classics in the evening. By the time she went to the University of Nebraska in 1891–where she began by wearing boy's clothes and cut her hair close to her head–she had decided to be a writer.

After graduation she worked for a Lincoln, Nebraska, newspaper, then moved to Pittsburgh and finally to New York City. There she joined McClure's magazine, a popular muckraking periodical that encouraged the writing of new young authors. After meeting the author Sarah Orne Jewett, she decided to quit journalism and devote herself full time to fiction. Her first novel, Alexander's Bridge, appeared in serial form in McClure's in 1912. But her place in American literature was established with her first Nebraska novel, O Pioneers!, published in 1913, which was followed by her most famous pioneer novel, My Antonia, in 1918. In 1922 she won the Pulitzer Prize for one of her lesser-known books. One of Ours. Death Comes for the Archbishop (1927), her masterpiece, and Shadows on the Rock (1931) also celebrated the pioneer spirit, but in the Southwest and French Canada. Her other novels include The Song of the Lark (1915), The Professor's House (1925), My Mortal Enemy (1926), and Lucy Gayheart (1935). Wila Cather died in 1947.


From the Paperback edition.
Praise For…
---
"No romantic novel ever written in America, by man or woman, is one half so beautiful as My Ántonia." –H. L. Mencken

"The time will come when Willa Cather will be ranked above Hemingway." –Leon Edel