Drifters (An Omega Days Novel #3) (Paperback)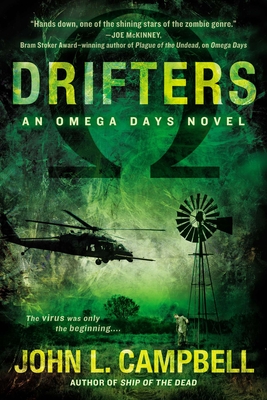 Other Books in Series
This is book number 3 in the An Omega Days Novel series.
Description
---
The survivors of the Omega Virus make a desperate effort to find the living. But the walking dead aren't done with them yet…

Helicopter pilot Vladimir Yurish is a man of his word. The last thing he wants is to abandon the safety of the U.S.S. Nimitz and his newly adopted son Ben. Still, a promise is a promise, no matter how close to death it brings him…

Angie West has fought hard to keep strangers alive, but now it's time to tend to her own. Only, when she finds her family missing and their hideout burned and looted, she realizes the threat to her family isn't just the undead—the living can do so much worse…

Halsey has done well for himself, given the circumstances. Between his secluded ranch and precise shooting, the plague hasn't touched him. Until a Black Hawk crashes on his property, bringing the war to his front door…

Amid the chaos of a destroyed civilization, the survivors encounter a new threat. And these new monsters can't be outrun—or outwitted…
About the Author
---
John L. Campbell, author of the Omega Days novels, including Omega Days and Ship of the Dead, was born in Chicago and attended college in North Carolina and New York. His short fiction has appeared in numerous anthologies, literary magazines, and e-zines, as well as in two of the author's own collections. He lives with his family in the New York area, where he is at work on his next novel.
Praise For…
---
"When people ask me to recommend great zombie fiction one of the names I consistently mention is John L. Campbell. Nobody writes an urban battle scene quite like he does. The pace of his storytelling will leave you breathless, and his characters are so real and so likeable you will jump up and cheer for them. Omega Days is, hands down, one of the shining stars of the zombie genre. Do yourself a favor and move this one to the top of your to-be-read pile right now. You can thank me later."—Joe McKinney, Bram Stoker Award-winning author of The Savage Dead and Dead City

"Characters as diverse as a priest fallen from grace, to a prisoner who finds his heart, are all in this story of terror….Campbell is good with characters…It's stories like Omega Days, with a setting in a popular city that most people have heard about, that can take an average story and make it unique."—Examiner.com

"An impressively convincing vision of a world suddenly gone insane…The maelstrom that Campbell creates is a somber portrayal of the human capacity for both selfishness and, more rarely, altruism. He effectively builds a mood of terror that sweeps the reader along in this powerful example of zombie thriller genre at its best."—Publishers Weekly

"A highly entertaining read with a style that grabbed me from the very first page...There are creepy echoes…of masters like Koontz and King…If you want highly entertaining, escapist, zombie fiction with plenty of action peopled by rich and interesting characters, you couldn't do better than Omega Days."—SF Revu