Invasive Species (Paperback)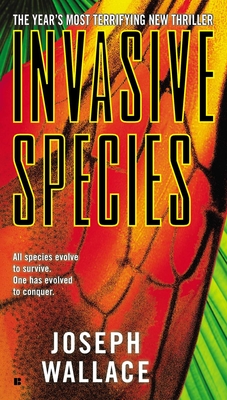 $9.99
Usually Ships in 1-5 Days
Staff Reviews
---
This book kept me up nights, both because it was hard to put down and because I was having visions of giant killer wasps. Wallace delivers one of the best creature-features I've read in a good long while; Invasive Species contains political shenanigans, apocalyptic adventure, and a hard look at our changing environment. (Jenn)
— From
Jenn
This book kept me up nights, both because it was hard to put down and because I was having visions of giant killer wasps. Wallace delivers one of the best creature-features I've read in a good long while; Invasive Species contains political shenanigans, apocalyptic adventure, and a hard look at our changing environment. (Jenn)
— From
Jenn
Description
---
There can only be one dominant life form on Earth.

In the remote African wilderness, a rainforest is dying. But something else has come to life: A newly evolved predator that has survived the depredations of mankind, only to emerge from its natural habitat faster, stronger, and deadlier than anything humanity has ever faced.

And it is no longer man.
About the Author
---
Joseph Wallace has written articles for Sierra and Audubon magazines, for Newsday, World Book Encyclopedia, and dozens of other publications. He is the author of short stories that have appeared in Baltimore Noir, The Prosecution Rests, and in Ellery Queen's Mystery Magazine. Diamond Ruby, Wallace's historical first novel about the girl who struck out Babe Ruth, was published in 2010.
Praise For…
---
"Wallace's unsettling, mind-bending apocalyptic novel chillingly dives into what happens when the balance of the world is disrupted and an invasive species grabs the reins. Terrifying and, yes, poetic, this is a novel that gets under your skin with an 'it could happen here' kind of chilling grace."
—Caroline Leavitt, New York Times bestselling author of Pictures of You and Is This Tomorrow

"Invasive Species cost me a perfectly good night's sleep… I hope Wallace carries a screenplay of Invasive Species in his hip pocket; he's going to need it."
—Bill Ransom, author of Jaguar

"If Wells's Martians scared you, or the Body Snatchers, or the Alien films, you might want to read this one under the bed. Brilliant."
—Jack McDevitt, Nebula Award-winning author of Starhawk

"Joseph Wallace re-births an ancient terror with creepy, pulse-pounding plausibility. His tale is just a few mutations away from coming true."—David Brin, author of Existence