Clearly, I Didn't Think This Through: The Story of One Tall Girl's Impulsive, Ill-Conceived, and Borderline Irresponsi ble Life Decisions (Paperback)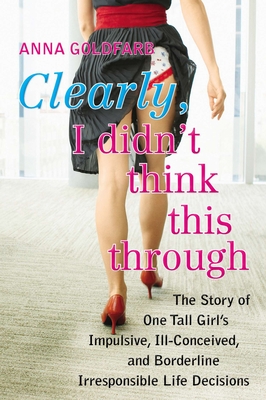 Description
---
In Her Defense, It Seemed Like a Good Idea at the Time...

Although Anna Goldfarb is very tall, she can't seem to grow up. While her friends lead lives seemingly plucked out of the pages of an Ikea catalog, she is still trying to figure out where she'll score this week's beer money.

Maturity used to be something she aspired to, but as a woman in her early thirties, it is finally time for her to take a good hard look in the mirror and ask herself, "Is adulthood really for me?"

Clearly, I Didn't Think this Through chronicles Anna's hilarious attempts to get her love life, career, and living situation under control. But, the more she tries to conform to where she thinks she should be, the harder it is for her to get there. Can't a tall, busty, smart brunette get a break?
About the Author
---
Anna Goldfarb
was born in upstate New York, raised in Chicago, schooled in New York City, and has settled in Philadelphia. She studied sociology as an undergraduate at Barnard College and holds a master's degree in journalism from Temple University. She is currently a full-time writer.
Anna has been called Philadelphia's "most popular dating blogger" by
Philadelphia Weekly
. Her blog Shmitten Kitten is a cult phenomenon. She likes thinking, eating tacos, holding hands, and pondering whether she could eat a taco while still holding hands. Yes, she still lives with her parents, but she will lie and say she lives in South Philly if you happen to be a hot guy.
.
Praise For…
---
"[Goldfarb's] winning ability to share her tales of bad judgment without a filter makes it easy to root for her."—Publishers Weekly

"The book is both fun and ultimately relatable."—Jason Oberholtzer, Forbes

"The voice of a generation... Chatty, funny and timely, her memoir is sure to amuse and touch an audience beyond her regular blog readers."—Shelf Awareness

"This book is hilarious. Anna Goldfarb is a female Michael Ian Black."—Three Library Cards