Ghost Lights: A Novel (Paperback)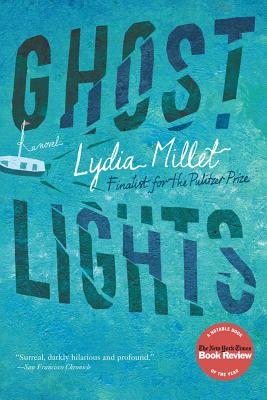 This item is currently unavailable and can not be ordered.
Description
---
"Surreal, darkly hilarious and profound."—San Francisco Chronicle
Ghost Lights
stars an IRS bureaucrat named Hal—a man baffled by his wife's obsession with her young employer, T., and haunted by the accident that paralyzed his daughter, Casey. In a moment of drunken heroism, Hal embarks on a quest to find T.—the protagonist of Lydia Millet's much-lauded novel
How the Dead Dream
—who has vanished in a jungle. On his trip to Central America, Hal embroils himself in a surreal tropical adventure, descending into strange and unpredictable terrain (and an unexpected affair with a beguiling German woman).
Ghost Lights
is Millet at her best—beautifully written, engaging, full of dead-on insights into the heartbreaking devotion of parenthood and the charismatic oddity of human behavior. The book draws us into a darkly humorous, sometimes off-kilter world where bonds of affection remain a reliable magnetic north.
Ghost Lights
is a startling, comic, and surprisingly philosophical story.
About the Author
---
Lydia Millet has written twelve works of fiction. She has won awards from PEN Center USA and the American Academy of Arts and Letters, and her books have been longlisted for the National Book Award, shortlisted for the National Book Critics Circle Award and Los Angeles Times Book Prize, and named as New York Times Notable Books. Her story collection Love in Infant Monkeys was a Pulitzer Prize finalist. She lives outside Tucson, Arizona.
Praise For…
---
Richly imagined.

At her best [Millet] exhibits the sweep and Pop-Art lyricism of Don DeLillo, the satiric acerbity of Kurt Vonnegut, the everyday-cum-surrealism harmonics of Haruki Murakami, and the muted-moral outrage of Joy Williams… Strange, alternately quirky, and profound… Millet is operating at a high level in Ghost Lights, and the book provides a fascinating glimpse of what can happen if the self's rhythms and certainties are shaken. We should be grateful that such an interesting writer has turned her attention to this rich, terrifying subject.

— Josh Emmons

Millet… skillfully interweaves the personal and the political, making Hal's journey both specific and universal.
— Christine DeZelar-Tiedman

...surreal, darkly hilarious and profound… With its linguistic and plot pranks and underlying moral complexity, Ghost Lights recalls the laconic, Lacanian novels of Paul Auster. Like Auster, Millet presents a disoriented postmodern hero who becomes a willing but only marginally competent detective in a mystery that requires a series of absurd divagations leading to a life-changing or life-threatening existential inquiry.

— Carolyn Cooke

[A] whip-smart, funny novel…. A yarn about marriage, fatherhood, and idealism, its every page idiosyncratically entertaining, amusing, and insightful. Millet proves she might have Jonathan Franzen beat at expertly mixing the political and domestic.

Millet is that rare writer of ideas who can turn a ruminative passage into something deeply personal. She can also be wickedly funny, most often at the expense of the unexamined life.
— Tricia Springstubb