Mermaids in Paradise: A Novel (Hardcover)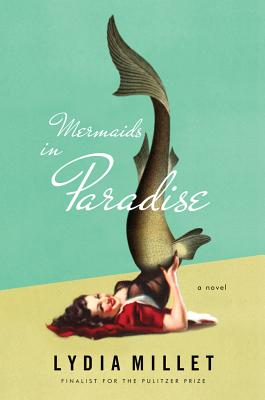 This item is currently unavailable and can not be ordered.
Description
---
Mermaids, kidnappers, and mercenaries hijack a tropical vacation in this genre-bending sendup of the American honeymoon.
On the grounds of a Caribbean island resort, newlyweds Deb and Chip—our opinionated, skeptical narrator and her cheerful jock husband who's friendly to a fault—meet a marine biologist who says she's sighted mermaids in a coral reef.
As the resort's "parent company" swoops in to corner the market on mythological creatures, the couple joins forces with other adventurous souls, including an ex–Navy SEAL with a love of explosives and a hipster Tokyo VJ, to save said mermaids from the "Venture of Marvels," which wants to turn their reef into a theme park.
Mermaids in Paradise is Lydia Millet's funniest book yet, tempering the sharp satire of her early career with the empathy and subtlety of her more recent novels and short stories. This is an unforgettable, mesmerizing tale, darkly comic on the surface and illuminating in its depths.
About the Author
---
Lydia Millet has written twelve works of fiction. She has won awards from PEN Center USA and the American Academy of Arts and Letters, and her books have been longlisted for the National Book Award, shortlisted for the National Book Critics Circle Award and Los Angeles Times Book Prize, and named as New York Times Notable Books. Her story collection Love in Infant Monkeys was a Pulitzer Prize finalist. She lives outside Tucson, Arizona.
Praise For…
---
Millet, with her keen sense of the absurd, brings the book to a surprising conclusion, and makes a point about corporate greed and the destruction of the environment without being heavy-handed.
— Moira Hodgson

I laughed so hard all over town…leave it to Lydia Millet to capsize her human characters in aquamarine waters and upstage their honeymoon with mermaids. I am awed to know there's a mind like Millet's out there—she's a writer without limits, always surprising, always hilarious.
— Karen Russell, author of Swamplandia! and Vampires in the Lemon Grove

Mermaids in Paradise makes brilliant comedy out of a honeymoon trip that veers from the absurd to the sublime and back again. Lydia Millet is a stone-cold genius.

— Jenny Offill, author of Dept. of Speculation

[A] laser-focused satire… The novel has the shape and pace of a thriller… An admirable example of a funny novel with a serious message that works swimmingly. Dive in.

With equal parts calculated wryness and pleading earnestness, [Millet] delivers a thrilling piece of fabulist fiction.

A hilarious genre-bender that strikes some serious chords.
— Jane Ciabattari

Suspenseful, philosophical, and tropical—the funniest you'll ever read on ecotourism and the wisest you'll ever read on mermaids.
— Natalie Beach

[A] deft satire… Millet ramps up the suspense.
— Melissa Maerz

A romp with sharp teeth… a slapstick variation on Millet's abiding theme: the relationship between human beings and the natural world.
— Laura Miller

Now that David Foster Wallace is gone, I think Lydia Millet is the American writer with the funniest, wisest grasp on how we fool ourselves… she has as good a chance as anyone to write the novel that defines our time.
— Charles Finch