Where the Money Went: Stories (Hardcover)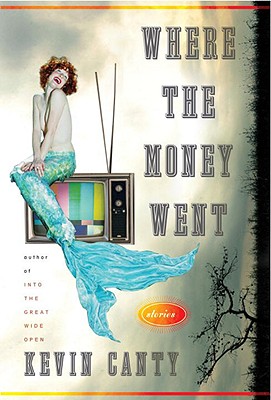 Description
---
Kevin Canty is a master of the short story whose work has been compared to that of Flannery O'Connor and Raymond Carver. In Where the Money Went, he surprises us with stories about love and the desertion of love, all written from a man's point of view. Rarely is a man so revealing.

A narrator struggles with his abiding loyalty to his ex-wife, even when he finds love with another woman. A newly divorced man learns more than he wants to know about his friends' long-term marriages. In these nine stories, which incisively touch on the complex nature of love, we find men as fathers, as husbands, and as lovers, trying their best in a world that stubbornly refuses to make sense. Canty, whose writing has been praised as "smart, gritty, unsentimental" (New York Times), "lovely and unforgiving" (Boston Globe), and "enchanting and painful" (USA Today), powerfully conveys both the bitterness that can afflict romantic relationships, and the moments of humor and tenderness that cut through it.
About the Author
---
KEVIN CANTY is the award-winning author of the novels "Into the Great Wide Open," "Nine Below Zero," and "Winslow in Love," as well as the short-story collections "Honeymoon and Other Stories" and "A Stranger in This World." His work has been published in "The New Yorker," "Esquire," "GQ," "Details," "Story," "New York Times Magazine," "Tin House, " and "Glimmer Train." He lives and writes in Missoula, Montana.
Praise For…
---
"Don't be fooled by the title. It's the diminishing sands of relationships Canty traces, in tales as spare as Raymond Carver's and as frank as a Larry David rant. 'Anger,' declares a real estate agent who can't find a home to please his wife, 'is the engine of marriage.' In Canty's world people lose control. 'Things are running away from me,' says a lonely woman. These stories linger."
—People (four stars)

"What Russell Banks does for the Northeast, Kevin Canty does for the world west of the Mississippi: bleeds it dry of romanticism and bluntly exposes the foibles of its inhabitants. His characters largely reside on the lower rungs of the class ladder, and he tends to treat them unsympathetically. Yet he's never cruel or cynical, and the nine stories in Where the Money Went put skill at tracking subtle emotional shifts on full display, artfully capturing people at the tender moments just before they go off the rails."
—Chicago Sun-Times

"Incisive, bracingly insightful…. Canty has great compassion for his sometimes-deluded, always-confused men: the college boy still reeling from having almost killed his brother; the married drinker who realizes that his new sobriety demands a big change in his life; the father who realizes he can't protect his 4-year-old son, ''a biter,'' from the disapproval of the world. Like us, they squander their good fortune foolishly, on boats and houses and affairs and more booze than is good for them, on lovers who will leave and others who will be abandoned.
Canty's uncanny ability to elevate the everyday sets these stories apart. He deftly re-evaluates dreams of success, makes drama and sense of modern emotional calamity."
—The Miami Herald

"In Kevin Canty's dude-sympathetic story collection Where the Money Went, the world is primarily described by men, who navigate the pratfalls of love, work and family with stunted emotional adroitness…. Canty's characters are hobbled by their inability to make or maintain real connections with other people. It's like reading nine different incarnations of Jake Barnes from The Sun Also Rises, all of them groping for a sturdy emotion that is just out of reach. Even Canty's most wretched characters, though, are not beyond saving…. [T]hat Canty can resuscitate such sad sacks is a testament to his storytelling gifts. There just might be hope for this crew of lost souls."
—Time Out New York

"Canty peels back the compromises of short-story writing. He specializes in a mild-mannered everyday darkness but gets at something less stereotyped than any number of self-consciously suburban writers.... His work has the sting of a Flannery O'Connor story, ... the raw economy of Ramond Carver's work.... Canty's characters are often on the brink of a bad decision. By unflinchingly taking the character - and the reader - through to the other side of these moments, Canty creates palpable anxiety and velocity that is deliciously unbearable."
—St. Louis Post-Dispatch

"Canty leaves readers heartbroken and empathetic, but not exhausted. Grade: A."
—The Plain Dealer (Cleveland)

"Canty's stories are very much Americana, pointed and spiky like a basket of freshly-sharpened pencils. His characters are the people you might otherwise ignore, the people you don't remark upon at the soccer match, the married couple you might think you know, but do not, the valiant losers and ungraceful winners…. Canty cuts to the chase, attacking his stories and characters as if they were a particularly hearty meal that needs eating. There's a pleasingly blunt quality to his language, lending his stories a raw quality. [Canty] teaches the reader with every story that short stories are indeed powerful and the feel and heft of that power is something different, not just from story to story, but essentially different from the stories told in novels."
—Bookotron.com

"Expectations are squashed in each of Canty's finely crafted stories…. [These] semi-successful relationships may be unconventional, but they're intense nonetheless. Who knew misery could be so refreshing?"
—Bookslut.com

"The author takes on varied themes—love, egotism, disillusionment—and renders them with a clear, sympathetic eye."
—Los Angeles Times

"Canty writes with vigor and a tender toughness that moves his characters with sad inevitability through their lives. In the title story, a gem of less than three pages, Braxton sits down to figure out where indeed the money went and finds his life has been one of waste, dissipation and self-indulgence: the "hippy school" for his daughter, the $1,000 bikes for him and his son, the extravagant ski vacation in Vail, his wife's drunkenly decadent behavior on the night of their initiatory pool party. "The rest of the money, what there was of it, went for the lawyers," is the story's searing closing sentence. "In the Burn" focuses on a firefighter's desire to impress his girlfriend's 11-year-old son by taking him to the site of a dangerous forest fire; instead, he ends up feeling, "that circle of love is closed…everyone else inside and me out in the dark." "Sleeping Beauty" reveals the fault lines in the marriages of two couples, while bachelor Andrew both witnesses and participates in their decline. In "The Birthday Girl," partier Gwen confesses, "the things that I want and the things that I need, I can't get them to match up." That statement pretty well characterizes the condition of most of Canty's characters. They want connection and relationships but end up with "the taste of ashes" in their mouths. Canty writes incisively and pays special attention to the nuances of longing, bitterness and regret."
—Kirkus Reviews

"Canty exposes the cracks and seams in ordinary marriages, skillfully examining infidelity and the range of directions life can take once the relationship has ended."
—Publishers Weekly
Praise for Kevin Canty's previous works:


"Canty is a writer who not only cares to the bone about his characters, but who honors them, endowing them with an emotional richness that resonates in startling, often frankly disturbing ways." —Star-Ledger

"Canty possesses an instinctive ability to create old-fashioned, highly plotted stories, rich with incident and narrative tension … Caught in extreme situations, his people are forced to make choices about the direction of their lives, choices about the configuration of their dreams." —Michiko Kakutani, New York Times

"Canty is certainly one of the most talented short-story writers working today. He has a style that is lean but not minimalist. The stories are short and tight, and … oftentimes sing. Like short-story writer Tobias Wolff, a writer of equal but very different talents, Canty is interested in looking unflinchingly at what we really think and feel and the moral and ethical fallout of this, as opposed to how we believe we should think and feel … Canty has proved that the short story can be as vital a genre as its more glamorous and wealthy cousin, the novel." —Seattle Post-Intelligencer

"Like the work of Richard Ford and Ann Beattie, Canty's stories are skillfully paced. Models of compression, they draw us into their dramas, complicate our allegiances, and then leave us breathless. Canty's style, however, is his own: He cinematically highlights gestures and details, keeps his dialogue spare and realistic, and uses touches of lyricism to hint at longings his characters can't articulate." —Minneapolis Star Tribune

"With honesty and piquancy his fiction exposes the embattled inner lives of people who have learned to think of themselves as outsiders … Canty is a writer's writer, never letting slip an extraneous word. But unlike many an artisan of his gifts, he is also a reader's writer." —Baltimore Sun

"Kevin Canty is a poet among storytellers." —Atlanta Journal-Constitution