Skellig (Hardcover)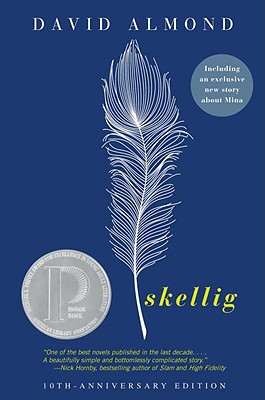 Description
---
David Almond's Printz Honor–winning novel is a captivating modern classic.

Ten-year-old Michael was looking forward to moving into a new house. But now his baby sister is ill, his parents are frantic, and Doctor Death has come to call. Michael feels helpless. Then he steps into the crumbling garage. . . . What is this thing beneath the spiderwebs and dead flies? A human being, or a strange kind of beast never before seen? The only person Michael can confide in is his new friend, Mina. Together they carry the creature out into the light, and Michael's world changes forever. . . .
About the Author
---
David Almond grew up in a large family in northeastern England. He worked as a postman, a brush salesman, an editor, and a teacher but began to write seriously after he finished college. He lives in England with his partner and their daughter.
Praise For…
---
Skellig is the winner of the 1998 British Whitbread Award for Children's Literature.

Praise for Skellig:

"The author adroitly interconnects the threads of the story...to Skellig, whose history and reason for being are open to readers' interpretations.... [T]he story brightens dramatically as Michael's loving, life-affirming spirit begins to work miracles."
--Publishers Weekly, starred review

"The plot pivots on the question of what Skellig is....The beauty here is that there is no answer and readers will be left to wonder and debate, and make up their own minds.  A lovingly done, thought-provoking novel."
--School Library Journal, starred review

"The marvelous and the everyday mix in haunting, memorable ways."
--Kirkus Reviews, pointer

"Some of the writing takes one's breath away, especially the scenes in which Almond, without flinching, describes the beauty and the horror that is Skellig."
--Booklist, starred review

"I read this luminous novel with a sense of wonder, and it's left an imprint on my mind--and, yes, my heart--that will not easily, if ever, fade.  In fact, I think Skellig deserves that risky adjective--unforgettable."
--Robert Cormier, author