Hot Under Pressure (Mass Market Paperbound)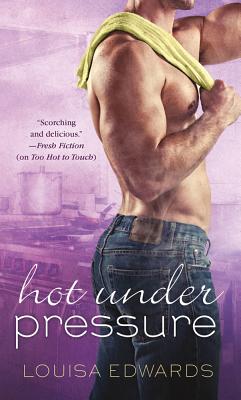 Description
---
Hot Under Pressure
Louisa Edwards
Prepare to turn up the heat with the final book in the sizzling "Rising Star Chef" trilogy from romance author Louisa Edwards.
Henry Beck thought he'd already faced the toughest kitchen challenge of his life. After all, what could top sweating it out as a Navy cook on a submarine? But when he learns his competition for the title of Rising Star Chef is the sweet hippie girl he married and left ten years ago, the heat is on.

Now Beck and Skye Gladwell are going head to head in the finals and sparking up old flames every time they touch. But Skye wants more than a win over the man who abandoned her when she needed him most she wants a divorce Then her sexy almost-ex makes a deliciously dangerous proposition. He'll give in to her demands, but if his team wins the RSC, he has a demand of his own one last taste of the only woman he ever loved.
About the Author
---
Louisa Edwards grew up in Virginia before moving to Manhattan to work with some of the biggest names in book publishing. She has also worked as a restaurant reviewer for a small-town newspaper, a waitress at a returement home, and behind the counter at an organic bakery. She decided to bring her love of romance and cooking together by writing the Recipe for Love and Rising Star Chef series. She currently lives in Austin, Texas.
Praise For…
---
Red-Hot Raves for the novels of Louisa Edwards
TOO HOT TO TOUCH
"Too Hot to Touch
 is a satisfying, emotional and touching read." –
Read, React, Review
"I can see that this series is going to be another keeper on my shelves. A great start to this new foodie series, it makes me want to learn to cook...almost." –Smitten with Reading
"Edwards always amazes me with her descriptions in the kitchen and food.  Be sure to read this book on a full stomach, or else the hunger pains might get ya!" –The Book Pushers
"Jules and Max scorch the pages…very well written characters with flaws, issues and depth." –Badass Book Reviews
"I loved this book. It was funny, sexy, the love story was touching, and the characters were likeable. As a fan of contemporary romance, this is exactly what I'm looking for when I buy a book. I can't wait to read the next installment. This one is a keeper so don't waste more time and go get it!" –Romance Around The Corner
"If you like food, televised food shows (especially the popular Bravo series "Top Chef") and books with happy endings, you're in for a treat." –Go San Angelo Standard Times
"Scorching romance and delicious passions ignite behind the scenes of a high-stakes culinary competition. Today's hottest chefs vie for fame, fortune . . . and each other's hearts." –Fresh Fiction
"Yowza! There's nothing like romance in the kitchen to get juices pumping and hearts pounding, especially when the writing sizzles like it does in Edwards' latest." –All About Romance
"Every woman who's made the painful discovery that great sex is not enough to make a man realize he's in love will sympathize. Too Hot to Touch flips the power balance." –BN.com Romance Reviews
"I enjoyed the banter between all the characters. We get a little hint as to who Danny's heroine will be as his book will pick up where this one leads off.  It's overall an enjoyable read, and I'll be picking up Danny's book when it comes out." –Happily Ever After Reads