Winner of the National Book Award: A Novel of Fame, Honor, and Really Bad Weather (Paperback)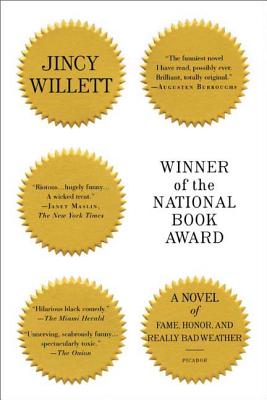 Staff Reviews
---
The darkest humor is the funniest and Jincy Willett is its master. (Stephanie)
— From
Stephanie
Description
---
Set in Rhode Island, Winner of the National Book Award tells the story of twins who could not be more different. Abigail Mather is a woman of passionate sensual and sexual appetites, while her sister, the book loving local librarian Dorcas, lives a quiet life of the mind. But when the sisters are sought out by the predatory and famous poet, Guy DeVilbiss, who introduces them to Hollywood hack writer and possible psychopath Conrad Lowe, they rapidly become pawns in a game that leads to betrayal, shame and ultimately, murder.
Darkly comic and satirical, Jincy Willett's Winner of the National Book Award is unnervingly funny and disarmingly tender whether she is writing about sex, literary delusion or Yankee pretension.
About the Author
---
JINCY WILLETT is the author of Jenny and the Jaws of Life, Winner of the National Book Award, and The Writing Class, which have been translated and sold internationally. Her stories have been published in Cosmopolitan, McSweeney's Quarterly and other magazines. She frequently reviews for The New York Times Book Review.
Praise For…
---
"The funniest novel I have read, possibly ever. Brilliant, totally original, and worthy of its title. I promise you will laugh constantly and to the point of stomach damage." —Augusten Burroughs, author of Running With Scissors and Dry
"Riotous . . . hugely funny . . . Willett's satirical abilities remain deliciously undimmed. . . . A wicked treat. . . . Amid the antic, hilarious, gender-bending battle of the sexes that Ms. Willett whips up in this book, either one may qualify as a reason to kill. Either that, or to die laughing." —Janet Maslin, New York Times
"The author mows down worlds of artistic and psychological twaddle with killer sprays of language. Willett is effortlessly, furiously funny. . . . A." —Entertainment Weekly
"Read the title with a snort that echoes across the room, and proceed from there...unnerving, scabrously funny...a spectacularly toxic novel." —The Onion
"Willett plays artfully with narrative structure. . . . It's Dorcas' jaded take on every Yankee pretension, psycho-babble truism and literary delusion she encounters that makes this gothic tale so amusing." —Seattle Times
"She writes for the joy of reading, not for the puffed-up pride of having written, and we're the ones who run off with the prize." —New York Times Book Review
"Dorcas' deadpan narration is perfect. . . . Willett's hapless characters are, in the end: grotesquely flawed, hugely funny, but human." —J.L. Johnson, Boston Herald
"A sharp, highly original satire." —Time Out
"A hilarious black comedy . . . brilliantly constructed and unabashedly vicious . . . Nothing escapes [Willett's] notice, and Dorcas' keen view of the world is richer for that fact. And so are we." —Miami Herald