Magic Books & Paper Toys: Flip Books, E-Z Pop-Ups & Other Paper Playthings to Amaze & Delight (Paperback)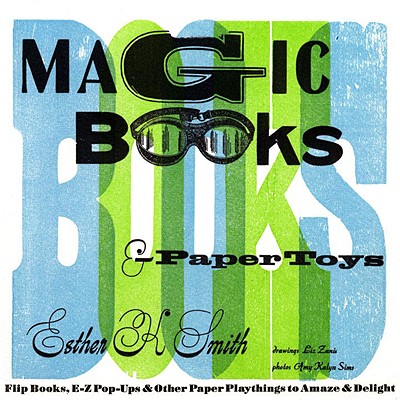 This item is currently unavailable and can not be ordered.
Description
---
Everyone loves a good book, but what's better than one you've made by hand? And not just any straightforward book, but simple pop-up books, flip books, magic pamphlets, pop-up maps, and accordions! Esther K. Smith, author of How to Make Books, unlocks the secrets of making tricky book forms even if you've never worked with paper before.

While some of these 25 projects can be made by kids with a little help from mom or dad, all are designed with the adult in mind—the adult who's a kid at heart! With step-by-step directions and charming illustrations, a few carefully placed cuts and an array of folds and twists almost magically become a colorful, multidimensional book.
About the Author
---
ESTHER K. SMITH, author of How to Make Books, collaborates with typographer Dikko Faust and other artists and writers at Purgatory Pie Press in New York City. Their handmade books have been exhibited at the Metropolitan Museum of Art and London's Victoria & Albert Museum. Their artist books are housed in many rare book collections including the Museum of Modern Art, the Whitney Museum, and the National Gallery of Art. Smith teaches throughout the United States, Canada, and England, and every term at Cooper Union in New York City.
Praise For…
---
Praise for Esther K. Smith:

"Esther K. Smith is the Betty Crocker of bookmaking—and it's a calorie-free hobby! Yay!"
—Simon Doonan, Creative Director, Barneys New York

"This ingenious, beautifully-designed book brings the miracle of paper structures to readers of all ages. Esther Smith brings her expertise as a book maker and paper folder extraordinaire to this delightful volume that is packed with projects and ideas."
—Ellen Lupton, author of D.I.Y.: Design It Yourself and D.I.Y. Kids

"Making paper spectacles is one of the great tactile joys, and this stunning book brings that pleasure spectacularly to life."
—Steven Heller, co-chair of the Designer As Author MFA Program, School of Visual Arts