A Power Stronger Than Itself: The AACM and American Experimental Music (Paperback)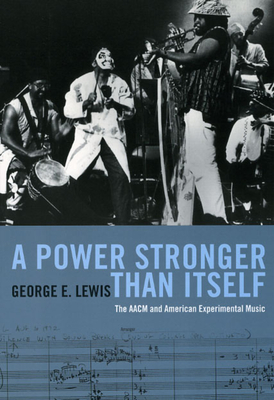 Email or call for price and availability
Usually Ships in 1-5 Days
Description
---
Founded in 1965 and still active today, the Association for the Advancement of Creative Musicians (AACM) is an American institution with an international reputation. George E. Lewis, who joined the collective as a teenager in 1971, establishes the full importance and vitality of the AACM with this communal history, written with a symphonic sweep that draws on a cross-generational chorus of voices and a rich collection of rare images.

Moving from Chicago to New York to Paris, and from founding member Steve McCall's kitchen table to Carnegie Hall, A Power Stronger Than Itself uncovers a vibrant, multicultural universe and brings to light a major piece of the history of avant-garde music and art.
Praise For…
---
"Written with the eye of an ethnographer, the ear of a performer, and the heart of a hometown dweller, George Lewis's account of the development of the AACM is an engaging story, a romance in which several generations of musicians triumph to create a music that travels around the world, yet is completely unique to their experiences. Reinscribing Chicago as a city of enormous artistic vitality and tough aesthetics, A Power Stronger Than Itself brilliantly redraws the map of jazz and widens the horizon for new and experimental music."
— John Szwed, author of Space Is the Place: The Lives and Times of Sun Ra
"George Lewis has outdone himself with this extraordinary volume. His unrelenting intelligence and ear for detail have produced a challenging compendium of late twentieth-century African Americana. This is not only a study of the AACM, it is a hope-drenched encomium to modernist creativity and the oppositional imagination."
— Paul Gilroy, author of Postcolonial Melancholia and The Black Atlantic
"The AACM is one of our great cultural inventions. This extraordinary book embodies its principles, for George Lewis draws on multiple traditions: scholarship, reportage, testament, analysis, theory and criticism come together with virtuosity and scrupulous discipline. A Power Stronger Than Itself remaps the landscape of American experimental music. Academics, critics and musicians will have to reconfigure such terms as 'jazz,' 'classical,' 'soulful,' 'avant-garde,' 'black' and 'white.' Now the past yields unexpected wonders; the future unexpected possibilities."
— Margo Jefferson, author of On Michael Jackson
"A remarkable book, not just for corralling an enormous amount of information—interviews, critical reviews, music charts, news reports (the bibliography runs 35 pages)—but for making the result a digestible and thoroughly entertaining 500-page read."
— Time Out Chicago
"With A Power Stronger Than Itself, Lewis exceeds expectations. For rather than merely recount the ascent of the AACM, he elegantly sets it against the backdrop of cultural, racial and social changes that shook the twentieth century. . . . Lewis unreels this tale with dramatic flourish and scholarly authority, in effect telling the story of not only the AACM but also the city where it's centered, Chicago."
— Howard Reich
"Lewis's landmark book. . . goes deeper into the formation and development of the AACM than any previous history, and as a formal acknowledgement of the group's enormous importance and influence it's long overdue."
— Peter Margasak
"This could very well be the most anticipiated book of the year. . . . The long wait is now over and patrience will be rewarded. George Lewis's encyclopedic knowledge, thorough research and in-depth interviews have produced an eye-opening work. . . . Overall, it is a pleasant read, scholarly but not overly academic in tone, covering a wide stylistic range--from essay to storytelling to autobiography."
— Alain Drouot
"[Lewis] sets a new standard for scholarly writing about the people who make Great Black Music, or any other kind.. . . . Reading Lewis's book about the AACM makes one want to have been a part of it."
— Downbeat
"Simply put, George E. Lewis' new and long-awaited history of the Association for the Advancement of Creative Musicians (AACM) must be considered among the most important books ever written about creative music. A tour de force of narrative history and analysis driven by a clearly articulated point of view, it draws on a massive body of scholarship and original research that places Great Black Music in its historical, aesthetic, and social contexts. It will certainly shape the scholarly, critical, and public discussion of jazz and creative music for years to come."
— Ed Hazell
"Rich and dense and gratifyingly readable. . . . [Lewis] makes a scholarly portrait of a complex community into a ripping good and inspiring yarn."
— Kevin Whitehead
"In bringing intellectual breadth and what Lester Bowie calls 'good old country ass-kicking' to bear on past and present indignities, Lewis has produced a fitting companion to the music he celebrates."
— Franklin J. Bruno
"An important book. . . . Mr. Lewis narrates its development with exacting context and incisive analysis, occasionally delving into academic cultural theory. But because the book includes biographical portraits of so many participating musicians, it's a swift, engrossing read."
— Nate Chinen
"Very dense but very readable, filled with fascinating stories, capsule bios and rewarding side trips. Lewis has a gift for explaining abstruse ideas without dumbing down. As a reader, I'm torn between wanting to savor it slowly and devour it fast. Two hundred pages in, I've got weeks worth of stuff to think about."
— Kevin Whitehead
"An unequaled volume on both its subject and on Black creative collectivity."
— Clifford Allen
"Lewis' writing is lively, avoiding the trap of sounding too academic and instead creating a story that is compelling in its portrait of musicians dedicated to their art. This is a fine work on an area of jazz that deserves wider recognition and greater understanding."
— Alan Chase
"This essential book is music history from the inside. . . . Lewis is telling an interesting and important story here and telling it well. Anyone who is interested in modern serious music will learn from and enjoy this outstanding book."
— A.B. Spellman
"An illuminating, articulate panorama of a little-examined yet highly influential organization, one whose 'graduates' have permeated every element of modern music."
— Choice
"The crystalline study is thoroughly engaging. . . . Even the most dedicated improvised music aficionado will find anecdotes, relationships and hitherto unknown performances and biographies laid out in stunning detail. . . . The book is a graceful intertwining of oral history, hard research and insightful scrutiny of a complicated organism."
— Eugenia Bell
"More than any other recent new-jazz-studies or improvisation-studies monograph, A Power Stronger Than Itself draws clear connections between the collective history and aesthetics of a community of improvisers and the musical procedures they have employed."
— Paul Steinbeck
"A Power Stronger Than Itself is not only an essential history of the organization but a critical analysis into its place in American art, politics and socioeconomics."
— The New York City Jazz Record