Down the Shore: A Novel (Paperback)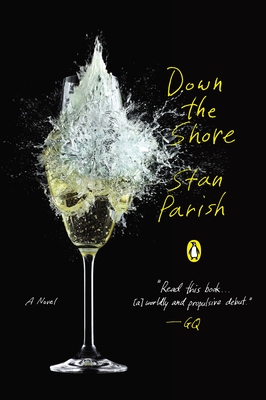 Description
---
A GQ Best Book of the Month • A New York Post Must-Read Book • A Flavorwire Book of the Week • A New York Daily News Can't-Put-Down Novel

"[Parish] has got chops, and a feel for dialogue, and is a talent in the making." —Bill Buford, The Wall Street Journal 

"Read this book in a beach chair. . . . [A] worldy and propulsive debut."—GQ

An exhilarating novel of reinvention, friendship, and ambition—from the Jersey Shore to St. Andrews in Scotland

Tom Alison has it all within his reach. He's smart, handsome, and about to graduate from a prestigious East Coast boarding school. After that it's off to the Ivy League and then a job on Wall Street, alongside the power brokers he's been watching from a distance as the working-class son of a single mom. And then the very life his mother worked so hard to escape catches up with him when he gets busted selling drugs.
 
Lucky for Tom, there are places for boys and girls with ruined reputations. First, he returns to his roots on the Jersey Shore, reconnecting with a hard-living crew and cementing a bond with his new friend Clare Savage—the son of a recently disgraced financier. The two boys spend their summer surfing and partying. When fall arrives, they head to St. Andrews University in Scotland, a haven for Americans in need of a second chance and a favorite of the British rul­ing class. Tom and Clare escape to Scotland together, but it's Tom who discovers a world shaped by even more powerful forces of greed and am­bition than the one he left behind. Sucked into a maelstrom of sex, drugs, and status, Tom learns what it takes to break the rules—and how we can be broken by them.
 
Driven by a cast of young men and women living in an age of riotous prosperity, Down the Shore is an unflinching and unforgettable story of youth steeped in excess. Stan Parish has crafted a gripping novel that masterfully captures the lives of fallen financiers and the people they bring down with them—and reminds us that not even an ocean can separate us from our fam­ily, our friends, or our past.
About the Author
---
Stan Parish was born in Texas and grew up in California and New Jersey. His writing has appeared in GQ, Esquire, Departures, New Jersey Monthly, New York Times, and The New York Times Magazine. He lives in New Jersey and New York.
Praise For…
---
"[Parish] has got chops, and a feel for dialogue, and is a talent in the making."
—Bill Buford, The Wall Street Journal

"Down the Shore has it all: handsome prep-school guys, drugs, power brokers behaving badly, and sexcapades from Seaside Heights to Scotland."
—Cosmopolitan
 
"Stan Parish transports readers Down the Shore."
—Vanity Fair

"Read this book in a beach chair. . . . In this worldy and propulsive debut by former GQ editor Stan Parish, about a Jersey kid's misadventures with the spawn of the global financial elite, we're going to assume that the partying happened, the drug-dealing arrest did not, and the casual sex with wanton rich girls was absolutely 100 percent, down-to-the-last-detail true."
—GQ
 
"Down the Shore is a look at how we screw up, try to redeem ourselves, and inevitably screw up again. . . . For a debut novelist, Parish shows a knack for balancing things, pacing his story, and painting a picture that makes Down the Shore one of the year's best debut novels, as well as the type of book that, based on that cover alone, just calls out to be read during the summer."
—Jason Diamond, Flavorwire

"Compelling. . . .  Parish deftly lets the issues of identity, culpability, and class ripple around his characters. . . . Invigorating. . . . Down the Shore reads like a long, fast rolling wave, expertly and purposefully ridden right to its gentle, subsiding end."
—New Jersey Monthly

"A stunning debut. . . A fast-paced novel . . . a beautifully layered, beautifully written work. . . . Scene-after-scene, expositions create complex characters and capture the details of the excess of the years right after the turn of this century while also carrying out timeless and compelling themes of friendship, family and self-discovery. . . . As I was reading, I couldn't help but compare this novel to classic coming-of-age books like A Separate Peace (1959) and The Outsiders (1967), undoubtedly still on the reading list at schools like Lawrenceville. Down the Shore is awash in all the literary qualities of those classics, but captures contemporary culture, making those great works seem dusty and quaint. Parish deftly shows the wonders of the big, wide world of opportunity in which today's privileged young adults live — but also the challenges of having too much too soon, before you have time to know who you really are."
—Ft. Worth Star-Telegram

"Tom, a Jersey Shore boy who derailed his scholarship to the Ivy League with a drug bust, and Clare, the son of a very wealthy but disgraced financier, become friends and enroll at St. Andrews University in Scotland. Tom has both brains and ambition but the two fall in with a crowd so wild it could sink anyone's future. Can he save himself twice?"
—The New York Daily News

"Recalls summer in all its glory. . . . [Parish's] knack for imagery results in a compelling debut as memorable as the bygone summer excursions its title recalls."
—Departures.com

"Mr. Parish's deft prose and irresistible characters lead us down a path between the American Dream and its waking nightmare."
—Mr. Porter.com

"Written by a GQ alum, this book has a little bit of everything. Prep schools, status, surfing, outrageous parties, sex, drugs, and other aspects of the privileged life make for a hell of a tale that's part The Wolf of Wall Street, part The OC."
—Brash.com

"This smoothly written coming-of-age debut by former GQ editor Parish is filled with dynamic but flawed young characters. . . . Parish shows promise as a storyteller, moving the plot along at a good clip."
—Publishers Weekly

"The partying is intense in this first novel, a look at America's bright young things under a cloud or two."
—Kirkus Reviews

"[A] globe-trotting, cocaine-and alcohol-saturated debut novel about wealth, excess, debauchery, and the dream of living the good life. . . . Ambitious . . . for fans of coming-of-age novels."
—Library Journal

"Few novels have shown us inside the lives of disgraced financial titans as brilliantly as Down the Shore does. Stan Parish's mesmerizing novel belongs in the grand tradition of the outsider who makes himself indispensable to the ruling class, learns all their secrets, and then passes himself off as one of them—as if Patricia Highsmith's Ripley had a son he left behind in New Jersey."
—Alexander Chee, author of Edinburgh

"Down the Shore is both a classic campus novel and an entirely fresh, fast-paced story of modern wealth and excess. I couldn't put it down."
—Cristina Alger, author of The Darlings

"An energized, ambitious tale of youthful excess and desire, studded with secrets and deceptions."
—Michael Hainey, author of After Visiting Friends

"In Down the Shore, Stan Parish has written a fast-paced tale of drugs, crime and surfing, which also manages to be a tender and perceptive novel about class, family, and the tension between ambition and honor."
—Alexander Maksik, author of You Deserve Nothing and A Marker to Measure Drift

"It is the exceptional coming-of-age novel that shows us the truth not only about its hero's maturation, but about the singular age into which he is maturing. Down the Shore is an intimate portrait of a young man, and a sweeping story of the daunting age of global finance. Stan Parish's debut is raw, elegant, incisive, and above all, wise."
—Matthew Sharpe, author of You Were Wrong and Jamestown