Secret Asset (Mass Market Paperback)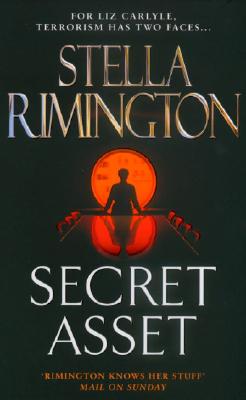 Description
---
The second thriller from the former head of M15, featuring M15 officer Liz Carlyle.

When M15 Intelligence Officer Liz Carlyle learns from one of her agents that there have been suspicious meetings in the Islamic bookshop where he works, she feels almost instinctively that a terrorist cell is at work.

Liz, immediately reports her findings to Charles Wetherby, her superior at M15, and a surveillance operation is swiftly put into place.

So when Wetherby pulls Liz off the case and tasks her to investigate a tip that many years ago a mole was planted in one of the branches of British Intelligence she feels distinctly marginalised. To Liz, the likelihood of a mole seems small, but if Wetherby is right then the potential damage to the Service itself could be immeasurable.

In Secret Asset, the second Liz Carlyle novel, Stella Rimington once again brings all her experience as a former Director General of M15 to bear in a truly compelling thriller that takes the reader into a world where no-one can be trusted and nothing is what is seems.
About the Author
---
Stella Rimingtonjoined the Security Service (M15) in 1965 and was appointed Director General in 1992. She was the first woman to hold the post and the first Director General whose name was publicly announced on appointment. Following her retirement from M15 in 1996, she became a non-executive director of Marks and Spencer and published her autobiography, Open Secret. The first Liz Carlyle novel, At Risk, was published in 2004.
Praise For…
---
"A cracking good thriller." Lynn Barber,
–Observer

"Intelligent… Undeniably pacey."
–Guardian

"This is something rare: the spy novel that prizes authenticity over fabrication"
–Mail on Sunday

"Tense and terrifying."
–Cosmopolitan

"The Secret Service background is exceedingly convincing."
–Evening Standard

Praise for At Risk:
"This is something very rare: the spy novel that prizes authenticity over fabrication."
–Mail on Sunday

"Tense and terrifying."
–Cosmopolitan

"A cracking good thriller"
–Lynn Barber, Observer

"Intelligent — Undeniably pacy"
–Guardian

"Rimington makes adroit use of her expertise as former MI5 chief"
–Sunday Times

"The Secret Service background is exceedingly convincing"
–Evening Standard

"First class"
–Douglas Hurd, New Statesman

Praise for Stella Rimington's autobiography Open Secret:
"The story of MI5's transformation is fascinating. So too is Rimington's account of her rise in what was very definitely a man's world."
—Guardian

"She writes in a refreshingly self-deprecating style of juggling the roles of single parent and chief 'spook'."
—Independent on Sunday

"Open Secret is a fascinating account not only of Stella Rimington's various roles in the evolving Security Services, but also of the strains on a single mother as she struggles to compartmentalize a life that is necessarily unpredictable, stressful and shrouded in secrecy."
—Time Out