What's Important Is Feeling: Stories (Paperback)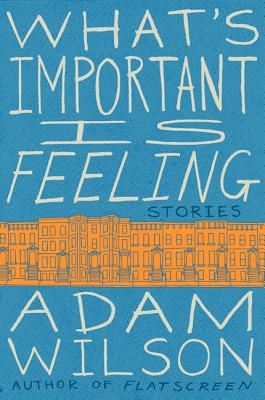 $14.99
Special Order: Please email for availability
Description
---
Bankers prowl Brooklyn bars on the eve of the stock market crash. A debate over Young Elvis versus Vegas Elvis turns existential. Detoxing junkies use a live lobster to spice up their love life. Students on summer break struggle to escape the orbit of a seemingly utopic communal house.
And in the title story, selected for The Best American Short Stories, two film school buddies working on a doomed project are left sizing up their own talent, hoping to come out on top—but fearing they won't.
In What's Important Is Feeling, Adam Wilson follows the through-line of contemporary coming-of-age from the ravings of teenage lust to the staggering loneliness of proto-adulthood. He navigates the tough terrain of American life with a delicate balance of comedy and compassion, lyricism and unsparing straightforwardness. Wilson's characters wander through a purgatory of yearning, hope, and grief. No one emerges unscathed.
About the Author
---
Adam Wilson is the author of the novel Flatscreen (Harper Perennial, 2012). His fiction has appeared in many publications including The Paris Review, The Best American Short Stories, Tin House, The Literary Review, The New York Tyrant, Gigantic, and many others.
He is currently a regular contributor to both BookForum and The Paris Review Daily. His essays have appeared in The New York Times, The New York Observer, Time Out New York, and elsewhere.
Adam holds a BA from Tufts University and an MFA from Columbia University. A former employee of Brooklyn's famous BookCourt bookstore, he now teaches creative writing at NYU and The Sackett Street Writer's Workshop. He lives in Brooklyn with his cat.
Praise For…
---
"The stories in Adam Wilson's What's Important Is Feeling blend humor with emotion."
— Vanity Fair

"Adam Wilson is one of our best young writers."
— Flavorwire

"This book will bring you back to the wandering, blurred-together days of your early twenties, or, if you're a younger person with creative aspirations, remind you of your very real present."
— GQ.com

"With its tales of young men and women who can't quite grow-up, is about addiction, fear, sickness, self-doubt, family and love. But it asks us to respect its dark and damaged characters and to come feel what they feel, even if it's for just a moment in time."
— ZYZZYVA

"Getting laughs and pathos from the same work of fiction is a hard thing to do. Adam Wilson's previous book, Flatscreen, did so regularly. . . . As good as that book was, his new collection What's Important is Feeling, is even better."
— VOL. 1. BROOKLYN

"Adam Wilson is a writer on the rise."
— Buzzfeed

"[A] testosterone- and coke-fueled collection. . . . Darkly funny."
— Entertainment Weekly

"Adam Wilson can write. . . and he does so with a certain authenticity and humor that I rarely see. . . . If you enjoy the cohesive element in collections, then I can't recommend this book enough."
— LITREACTOR.COM

"Those who like to sympathize or psychoanalyze should find what they're looking for in What's Important is Feeling: Stories. Wilson's characters might be one, probably two, cards short of a full deck, but they are inarguably funny."
— VOX Magazine

"Adam Wilson's fierce tales of botched dreams, conflicted ambitions and naïve missteps make for a millennial Winesburg, Ohio, capturing all the idealism and cynicism of young cohorts facing tough realities."
— B&N Review

"This book is a joy ride . . . The buoyant comedy and insight of Wilson's prose carries these stories farther and farther past taboo, into sensitive and complicated territory."
— New York Times Book Review