The Hippest Trip in America: Soul Train and the Evolution of Culture & Style (Paperback)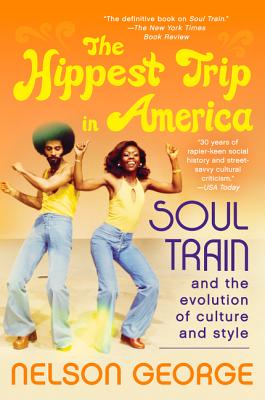 Description
---
An authoritative history of the groundbreaking syndicated television show that has become an icon of American pop culture, from acclaimed author and filmmaker Nelson George, "the most accomplished black music critic of his generation" (Washington Post Book World).
When it debuted in October 1971, seven years after the Civil Rights Act, Soul Train boldly went where no variety show had gone before, showcasing the cultural preferences of young African-Americans and the sounds that defined their lives: R&B, funk, jazz, disco, and gospel music. The brainchild of radio announcer Don Cornelius, the show's producer and host, Soul Train featured a diverse range of stars, from James Brown and David Bowie to Christine Aguilera and R. Kelly; Marvin Gaye and Elton John to the New Kids on the Block and Stevie Wonder.
The Hippest Trip in America tells the full story of this pop culture phenomenon that appealed not only to blacks, but to a wide crossover audience as well. Famous dancers like Rosie Perez and Jody Watley, performers such as Aretha Franklin, Al Green, and Barry White, and Cornelius himself share their memories, offering insights into the show and its time—a period of extraordinary social and political change. Colorful and pulsating, The Hippest Trip In America is a fascinating portrait of a revered cultural institution that has left an indelible mark on our national consciousness.
About the Author
---
Nelson George has written several classic black music histories, including Where Did Our Love Go? The Rise and Fall of the Motown Sound, The Death of Rhythm & Blues, and Hip Hop America. He also coedited The James Brown Reader: 50 Years of Writing About the Godfather of Soul. His most recent novel is The Plot Against Hip Hop. He has also contributed articles to the New York Times. George directed the HBO film Life Support as well as the VH1 documentary Finding the Funk.
Praise For…
---
"A kaleidoscopic trip through one of the brightest zones in the evolution of American culture."
— Booklist

"George's in-depth look at a revered TV show is one of those rare music-centric books that will transcend its subject's core fan base. Even those with just a casual interest in Soul Train will be happy to take this trip."
— Kirkus Reviews (starred review)

"30 years of rapier-keen social history and street-savvy cultural criticism."
— USA Today

"George's book does a great job of assessing the sociological, stylistic and economic power of 'Soul Train.'"
— New York Daily News

"The definitive book on 'Soul Train'"
— New York Times Book Review

"George is one of the best music writers around… he crafts a compelling narrative."
— Andrea Battleground, AV Club

"A loving history."
— Pitchfork.com

"An engaging read for those wanting to understand more clearly why Soul Train is such a monumental part of popular-music history."
— SoulTracks.com