The Barbed Crown: An Ethan Gage Adventure (Ethan Gage Adventures) (Hardcover)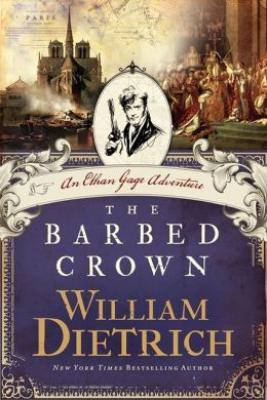 Description
---
In The Barbed Crown, the sixth tale of rogue and adventurer Ethan Gage by William Dietrich, our hero returns to Paris and London. Against a background of imperial pomp and the gathering clouds of war, Gage plots revenge on Napoleon Bonaparte for the kidnap of his son.
Paris, the "City of Lights," shines – but alongside its splendor is great squalor. Heroic patriotism rubs against mean ambition, while grand strategy and back-alley conspiracy are never far apart.
While Ethan spies on the French court, his wife, Astiza, works to sabotage Napoleon's coronation using the Crown of Thorns, a legendary relic said to have come from the Crucifixion itself. But when Napoleon is crowned nonetheless, they flee to England.
At Walmer Castle on the English coast, Gage joins a daring campaign by Smith, Fulton, rocket inventor William Congreve and smuggler Tom Johnstone to halt Napoleon's intended invasion of England – a campaign which leads Ethan to take a role in the Battle of Trafalgar itself…
About the Author
---
William Dietrich is the author of fourteen novels, including six previous Ethan Gage titles—Napoleon's Pyramids, The Rosetta Key, The Dakota Cipher, The Barbary Pirates, The Emerald Storm, and The Barbed Crown. Dietrich is also a Pulitzer Prize-winning journalist, historian, and naturalist. A winner of the PNBA Award for Nonfiction, he lives in Washington State.
Praise For…
---
"Ethan Gage is not a man to let the grass grow under his feet. A non-stop page-turning adventure of wit, entertaining history, and characters who roll with the punches of fate."
— Diana Gabaldon, author of the Outlander series

"Gage's roguish charm is in full bloom, and The Barbed Crown is still a page-turning delight."
— Seattle Times

"Utilizing his trademark combination of wit, wile, and homespun American common sense, Ethan successfully integrates himself into the sophisticated intrigue of the Old World."
— Booklist

"Rich in historical detail. . . . The battle of Trafalgar is narrated magnificently. There are also plots, twists, and counterplots along with searches for religious relics . . . Historical fiction fans will relish this over-the-top romp as they wallow in the color and the history."
— Library Journal

"Brilliantly conceived and crafted from the first word. Dietrich puts great characters in seemingly impossible scenarios on every page. A fun, fast, exhilarating read. I haven't read a historical novel this good since Ken Follet's Pillars of the Earth."
— Robert Dugoni, author of The Conviction

"Dietrich's creation Ethan Gage is no typical action hero. . . . Dietrich has the Gage series down to a formula, blending history with entertaining tall tales and a good deal of irreverence."
— Kirkus Reviews

"I am a big fan of William Dietrich's Ethan Gage novels and The Barbed Crown is a great addition to the series. Gage is a rascal and he's in trouble again. . . . An exciting, funny, and educational read."
— Phillip Margolin, author of Capitol Murder

"What a blast! The Barbed Crown is as funny as it is smart. . . . It is impossible not to love Ethan Gage. It is impossible not to love this book!"
— Garth Stein, author of The Art of Racing in the Rain

"Exuberant . . . . Along the way readers will be treated to Dietrich's fascinating historical detail and Gage's infectious personality, one part humble global servant and two parts self-directed opportunist who simply has to be where the action is."
— Publishers Weekly

"Those looking for historical romances for summer reading need look no further. Dietrich manages to turn what is normally a maudlin or mediocre genre into a tight, suspenseful joy ride. Here's to the further adventures of the Gages and to what will surely be a movie hero."
— Examiner.com

"If you like your swordplay spiced with a dash of witty repartee, a la The Three Musketeers, then Gage is the hero for you…The battles, plots and counterplots make this a delightful read, and the depiction of Napoleonic Paris is excellent. Recommended."
— Historical Novel Society Review

"William Dietrich's prose is so vivid in his description of early nineteenth century naval tactics that the reader may experience a touch of mal de mer. But through the carnage and rolling waves, Dietrich's fans will not stop cheering on the lovable gambler."
— Iron Mountain Daily News

"A swashbuckling adventure novel. . . . Description of war on the high seas is rarely better than in this novel."
— San Antonio Express-News

"Bill Dietrich offers another gem in The Barbed Crown. . . . Dietrich delivers with style, zest, and cliffhanger endings."
— Bellingham Herald