How to Make Love Like a Porn Star: A Cautionary Tale (Paperback)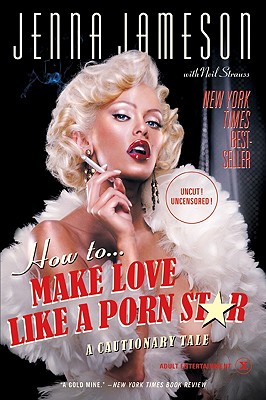 Description
---
"Captivating…a real person comes through in its page…Lively, hellacious, entertaining, sharp, feisty, and touching." —Salon.com
How to Make Love Like a Porn Star, the mega-bestselling memoir, triumphant survival story, and cautionary tale that spent over six weeks on the New York Times bestseller list and rocketed adult film icon Jenna Jameson into the mainstream spotlight, is now in paperback for the very first time. Her unforgettable memoir is many things at once: a shocking sexual history; an insider's guide to the secret workings of the billion-dollar adult-film industry; and a gripping thriller that probes deep into Jameson's dark past. With never-before-seen photographs from Jenna's private collection, exclusive photos taken for this book, and original cartoon strips, this memoir is an unparalleled exploration of sexual freedom.
About the Author
---
The world's most famous adult entertainment star and one of the leaders in the adult film industry, Jenna Jameson is CEO of ClubJenna, Inc., an Internet management, production, and licensing company. She has appeared in movies, television, and in more than 1,000 mainstream magazine articles. Jenna lives in Scottsdale, Arizona.
Neil Strauss is the author of the New York Times bestsellers The Game, Rules of the Game, Emergency, and Everyone Loves You When You're Dead. He is also the co-author of three other New York Times bestsellers - Jenna Jameson's How to Make Love Like a Porn Star, Mötley Crüe's The Dirt and Marilyn Manson's The Long Hard Road out of Hell. A writer for Rolling Stone, Strauss lives in Los Angeles.
Praise For…
---
"Fascinating."
— Entertainment Weekly

"In this book, Jameson gets you rooting for her. . . . Captivating . . . a real person comes through in its page. . . . Lively, hellacious, entertaining, sharp, feisty, and touching enough to earn Jameson the right to wear the 'Heart Breaker' tattoo on her right butt cheek."
— Salon.com

"Thespian talent notwithstanding, an adult movie performer's greatest asset is stamina; and by that measure Jenna Jameson the author deserves accolades. She is tireless. . . . Jenna Jameson aims high . . . for aspiring performers, it's a gold mine."
— New York Times Book Review

"With its wit…its celebrity dish…and its frank, one-fisted prose style…the queen of porn's autobiography is destined to become a lowbrow classic. Remarkably appealing and honest…should earn Jameson some of the mainstream acceptance she so clearly desires."
— Publishers Weekly

"It will undoubtedly move her into the mass market even further."
— Wall Street Journal

"As you'd expect, it's chock full of oh-my-God tidbits."
— Newsweek

"G-stringed Horatio Alger story."
— New York Times

"Wow!"
— Esquire

Fashion-magazine-quality color photographs…So far How to Make Love Like a Porn Star has received more favorable notices than just about any prescriptive book — on sex or any other topic."
— New York Post

"Racy"
— Star

"Jenna Jameson is the biggest adult film star in the world. . . . She's a legend in her own time."
— Playboy

"Jenna Jameson is an Icon."
— 101 magazine

"The woman who put the star in porn star."
— Rolling Stone