WORD is proud to welcome actor Patrick Wilson and author Mike Avila for a special event celebrating the book The Art and Making of Aquaman. Mike and Patrick will give a presentation on the book followed by a brief period of questions from the audience, then both will sign copies of the book.
IMPORTANT TICKETING INFORMATION:
Advance purchase of The Art and Making of Aquaman is required for entry into this event. The event will be held at WORD Jersey City on Saturday, March 9 at 2 PM. The store will close at 1:00 PM and reopen for ticket holders only at 1:30 PM. . Personalization will be available, but Patrick and Mike will only be signing approved Aquaman merchandise sold at WORD. Additional items that have not been purchased at WORD will not be signed. Children are allowed into event only if accompanied by an adult purchasing a ticket.
There are no refunds. If you cannot make the event, you may pick up your book at WORD Jersey City up to 30 days following the event. Members of WORD's Inner Circle membership program may reserve seats by emailing events@wordbookstores.com with proof of ticket purchase.
ABOUT MIKE AVILA
Mike Avila is an Emmy Award-winning TV producer and journalist who has worked for NBC, CBS, ABC, to name just a few. He's a senior producer for SYFY WIRE and hosts the interview show, Behind the Panel.
ABOUT PATRICK WILSON
Patrick Wilson is an Emmy-, Tony-, and Golden Globe-nominated actor who has appeared in such films as Watchmen, Little Children, The Conjuring, and Insidious. In 2018, he appeared as Orm Marius in the film adaptation of Aquaman. He is a co-owner of the Jersey City location of WORD and lives in New Jersey with his family.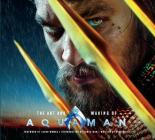 $45.00
ISBN: 9781683835035
Availability: In stock at Brooklyn or Jersey City -- click for more details
Published: Insight Editions - January 2019
Immerse yourself in the art and making of Aquaman, the movie chronicling Arthur Curry's path to a future reign as King of the Seven Seas.

The Art and Making of Aquaman takes readers behind the scenes of the highly anticipated 2018 Warner Bros. Pictures film based on the popular DC character.
---