Welcome to the ABC Child Center holiday book fair! We're making it easy for you to do your holiday shopping while supporting your school. We've made a list below of some of our favorite gifts for this holiday season, and encourage you to start with this list. While anything you order from WORD will raise money for ABC Child Center, all books on this page are guaranteed for holiday delivery. WORD cannot promise that every book on the site will be available for holiday delivery, as not all books on our site are on our shelves. However, it's easy for us to order almost all of them; we will make every effort to provide them and will let you know.PLEASE NOTE: In order for ABC Child Center to get credit for your order and for your order to be delivered properly, you MUST put in the comments that this order is to be delivered to ABC Child Center. On the checkout page, select "I would like to pick this order up at the store" instead of choosing a shipping option. Please submit all orders by 5 p.m., December 14th.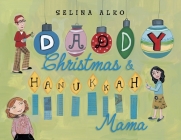 This item is currently unavailable and can not be ordered.
ISBN: 9780375860935
Availability: Unavailable
Published: Knopf Books for Young Readers - September 11th, 2012
A perfect gift for the holiday season, no matter what you celebrate in December!

I am a mix of two traditions.
From Daddy Christmas and Hanukkah Mama.
How lucky am I?

---

This item is currently unavailable and can not be ordered.
ISBN: 9781423168065
Availability: Unavailable
Published: Little, Brown Books for Young Readers - September 11th, 2012
---

$16.99
ISBN: 9780545416771
Availability: Available from our distributor; usually Ships in 1-5 Days
Published: The Blue Sky Press - September 1st, 2012
With more than 9 million books in print, America's favorite dinosaurs can't wait to celebrate Chanukah!
From the warm glow of holiday candles in the menorah to the fun of family gatherings, little dinosaurs love to celebrate the Festival of Lights. But sometimes the excitement of Chanukah, its treasured rituals, and the tradition of gifts can tempt a youngster to misbehave. . . .

---

This item is currently unavailable and can not be ordered.

ISBN: 9780545416788

Availability: Unavailable

Published: The Blue Sky Press - September 1st, 2012

Ho! Ho! Ho! With more than 9 million books in print, America's favorite dinosaurs can't wait to celebrate Christmas!

---

This item is currently unavailable and can not be ordered.

ISBN: 9780545418782

Availability: Unavailable

Published: Scholastic Inc. - July 1st, 2012

Following on the sucess of Star Wars: ABC we are offering the perfect companion--Star Wars: 123.

A numerical exploration of a galaxy far, far away, Star Wars: 123 uses Star Wars' most popular heroes, villains, vehicles, droids, and aliens to teach fundamental counting skills.

Featuring fascinating character facts and rich imagery that incorporate each number, Star Wars: 123 is a

---

$12.99

ISBN: 9780545479523

Availability: Available from our distributor; usually Ships in 1-5 Days

Published: Scholastic Inc. - September 1st, 2012

Learn to read with STAR WARS! This amazing boxed set includes ten books, two workbooks, and foil on the cover!
Learn how to read with all your favorite Star Wars characters! Perfect for reluctant readers, each book is illustrated with full-color images from the blockbuster Star Wars movies.


---

This item is currently unavailable and can not be ordered.

ISBN: 9780399257759

Availability: Unavailable

Published: G. P. Putnam's Sons - May 10th, 2012

Spot and his friends play lots of sports in this fun board book


---

This item is currently unavailable and can not be ordered.

ISBN: 9781849760751

Availability: Unavailable

Published: Tate Publishing - October 1st, 2012

From Dick Bruna, the well-loved author and illustrator of the Miffy books, come three compact and delightful picture books introducing shapes, colors, and numbers: I Can Count, My Vest Is White, and Round, Square, Triangle. Each one is illustrated in Bruna's inimitable style and teaches simple concepts.

---

This item is currently unavailable and can not be ordered.

ISBN: 9781849760775

Availability: Unavailable

Published: Tate Publishing - October 1st, 2012

From Dick Bruna, the well-loved author and illustrator of the Miffy books, come three compact and delightful picture books introducing shapes, colors, and numbers: I Can Count, My Vest Is White, and Round, Square, Triangle. Each one is illustrated in Bruna's inimitable style and teaches simple concepts.

---

This item is currently unavailable and can not be ordered.

ISBN: 9781849760768

Availability: Unavailable

Published: Tate Publishing - October 1st, 2012

From Dick Bruna, the well-loved author and illustrator of the Miffy books, come three compact and delightful picture books introducing shapes, colors, and numbers: I Can Count, My Vest Is White, and Round, Square, Triangle. Each one is illustrated in Bruna's inimitable style and teaches simple concepts.

---

This item is currently unavailable and can not be ordered.

ISBN: 9781926973562

Availability: Out of Print

Published: Owlkids - October 16th, 2012

In Picture My Day, young readers followed three siblings through a single day and were introduced to new words and objects along the way. In Picture My World, a companion title, readers will rejoin these three same siblings, but this time readers will accompany them through a number of milestones and occasions familiar to every young child.

---

This item is currently unavailable and can not be ordered.

ISBN: 9780763661243

Availability: Unavailable

Published: Candlewick Press (MA) - August 14th, 2012

Lucy Cousins's sweet story of a new sibling is back in a larger paperback format perfect for lap sharing.

---

This item is currently unavailable and can not be ordered.

ISBN: 9780763661571

Availability: Unavailable

Published: Candlewick Press (MA) - September 11th, 2012

Count from one spotted giraffe to ten darting fish in this perky pop-up book from renowned illustrator Petr Horacek.

---

This item is currently unavailable and can not be ordered.

ISBN: 9780802727909

Availability: Out of Print

Published: Walker Childrens - May 22nd, 2012

When night has come and the moon shines bright,

Reflecting back our sun's great light—

Explore the stars and search the sky,

And watch for satellites gliding by!


---

$17.99

ISBN: 9780670059836

Availability: In stock at Brooklyn or Jersey City -- click for more details

Published: Viking Books for Young Readers - May 5th, 2005

Llama, Llama red pajama

waiting, waiting for his mama.

Mama isn't coming yet.

Baby Llama starts to fret.

---

This item is currently unavailable and can not be ordered.

ISBN: 9780062123985

Availability: Out of Print

Published: HarperCollins - May 29th, 2012

Kids who love DC Comics super heroes will be excited to see Batman, Superman, and Wonder Woman swing into action in this hardcover collection!

Featuring eight of your favorite super hero tales, this treasury is perfect for a day full of action-packed adventure.

This hardcover includes the complete text and art from the following eight books:

---

This item is currently unavailable and can not be ordered.

ISBN: 9780307931788

Availability: Unavailable

Published: Knopf Books for Young Readers - August 7th, 2012

The tree kangaroo at the zoo would like nothing more than a baby of her own. So, when a new egg arrives via the endangered species van, the 'roo jumps at the chance to take care of it, even when no one else wants it. Soon, out comes a penguin and all the animals chip in to help because, as the tree kangaroo says, "Penguins eat fishes."  


---

This item is currently unavailable and can not be ordered.

ISBN: 9780763661229

Availability: Unavailable

Published: Candlewick - July 10th, 2012

Let Maisy show you how! Easy, safe, and fun, these craft projects for the very young were put together and photographed by Lucy Cousins herself.


---

$18.99

ISBN: 9780316203845

Availability: Available from our distributor; usually Ships in 1-5 Days

Published: Little, Brown Books for Young Readers - September 18th, 2012

Late at night, when all is quiet and everyone is asleep, a ninja creeps silently through the house in search of treasure. Soon he reaches his ultimate goal...and gets a big surprise! Will the nighttime ninja complete his mission?

---

$16.99

ISBN: 9780307168030

Availability: Backordered

Published: Golden Books - August 15th, 2000

Richard Scarry's classic book that takes readers all around town!

Join Lowly Worm, Huckle Cat, and other beloved characters for a day in Richard Scarry's Busy, Busy Town. Visit the school, the farm, the post office, and many more fun and exciting places in this classic book that teaches little ones all about what goes on in their very own communities.



---

This item is currently unavailable and can not be ordered.

ISBN: 9780394818238

Availability: Unavailable

Published: Random House Books for Young Readers -

Illus. in full color. Shows and tells what busy people do every day to build houses, sail ships, fly planes, keep house, and grow food.

---

$16.99

ISBN: 9780307157850

Availability: In stock at Brooklyn or Jersey City -- click for more details

Published: Golden Books - June 1st, 1998

It's time to start your engines in this Richard Scarry classic all about vehicles!

Buckle-up for a fun-filled day of planes, trains, automobiles . . . and even a pickle truck! Featuring hundreds of clearly labeled vehicles, this is the perfect book for little vehicle fans from the one and only Richard Scarry.

---

This item is currently unavailable and can not be ordered.

ISBN: 9781935179191

Availability: Unavailable

Published: Toon Books - September 25th, 2012

2012 Cybils Award Winner.

There's so much to see at the bottom of the world Young readers won't stop grinning as they're swept away by this strange and magical story. Frank Viva, the best-selling author of Along a Long Road, created this "outstanding" book (School Library Journal) after visiting Antarctica.

---

$17.99

ISBN: 9780375842719

Availability: Available from our distributor; usually Ships in 1-5 Days

Published: Schwartz & Wade - September 11th, 2012

"This picture book reads like an instant classic.... Oh, yes!" raved Kirkus Reviews in a starred review.


---

$17.99

ISBN: 9781442414037

Availability: Available from our distributor; usually Ships in 1-5 Days

Published: Simon & Schuster Books for Young Readers - September 4th, 2012

There is NOTHING boring about being a kid, but one little girl is going to have to prove it in this anything-but-boring picture book from comedian Michael Ian Black.

Just when a little girl thinks she couldn't possibly be more bored, she stumbles upon a potato who turns the tables on her by declaring that children are boring.

---

This item is currently unavailable and can not be ordered.

ISBN: 9780763661564

Availability: Unavailable

Published: Candlewick Press (MA) - September 11th, 2012

Visit all your favorite characters on Sesame Street with this Brand New Readers collection packed with extras for kids, teachers, and parents to enjoy.
This engaging boxed set contains:
- Ten short, funny, full-color books about Sesame Street, featuring Big Bird, Grover, Elmo, Abby, Bert, Ernie, Cookie Monster, and more

---

This item is currently unavailable and can not be ordered.

ISBN: 9780763662684

Availability: Unavailable

Published: Candlewick - October 23rd, 2012

A classic fairy tale is wittily retold by the celebrated Allan Ahlberg, with charming illustrations by his daughter, Jessica Ahlberg.


---

$7.99

ISBN: 9780307976970

Availability: Available from our distributor; usually Ships in 1-5 Days

Published: Random House Books for Young Readers - August 7th, 2012

Fans of Thomas & Friends will have a special reading experience when they open the pages of this sturdy board with glow-in-the-dark illustrations. Train-loving boys and girls ages 2 to 5 will be intrigued to see the moon, stars, Thomas' headlight, and more brighten the night with a soft glow in this sleepy Thomas the Tank Engine bedtime story.

---

This item is currently unavailable and can not be ordered.

ISBN: 9780316183109

Availability: Unavailable

Published: LB Kids - September 18th, 2012

Gonzo is known for his amazing and crazy stunts--he is The Great Gonzo, after all But what happens when he tries to add some magic tricks to his daredevil act? Will he win over the audience, or just make them disappear?
(c) 2012 Disney.

---